Pronunciation:
(SEE-fee-us)
Abbreviation:
Cep
&nbsp&nbspGenitive:
Cephei 
Right Ascension:
22 hours
&nbsp&nbspDeclination:
70 degrees
Area in Square Degrees:
588
Crosses Meridian:
9 PM, October 15
Visible Between Latitudes:
90 and -10 degrees
The constellation Cepheus, the king, is visible all year in the northern hemisphere. It can be seen between latitudes of 90 degrees and -10 degrees. It is a medium-sized constellation with a total area of 588 square degrees. This makes is the 27th largest constellation in the night sky. It is bordered by the constellations Camelopardalis, Cassiopeia, Cygnus, Draco, Lacerta, and Ursa Minor.
Cepheus is one of the 48 constellations identified by the Greek astronomer Ptolemy in the second century. It was named after the king of Ethiopia. Cepheus was the husband of Cassiopeia and the father of Andromeda. All three are immortalized in the night sky as constellations. It is said that Zeus placed him among the stars after his death because he was descended from the nymph Io, who was one of Zeus' favorites. Cepheus is usually depicted as a robed king with a crown of stars. He stands with his left foot placed over the pole and his scepter extended towards his queen, Cassiopeia.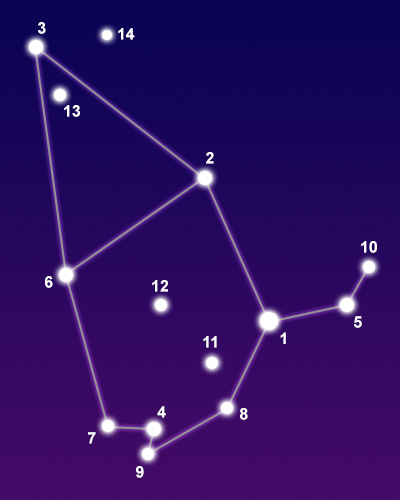 The constellation Cepheus showing common
points of interest below © Sea and Sky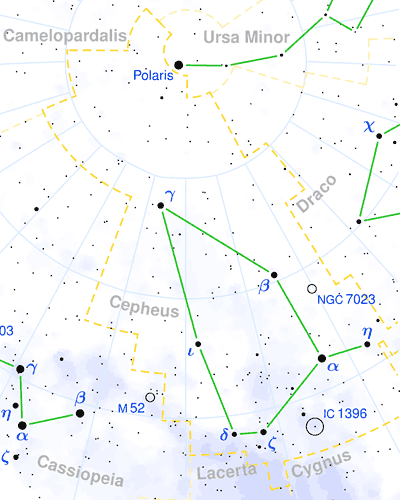 Cepheus constellation map
© Torsten Bronger CC BY-SA 3.0
Object
Designation
Name / Meaning
Object Type
V Mag
1 2 3 4 5 6 7 8 9 10 11 12 13 14
Alderamin
Alfirk
Alrai
Zeta Cephei
Eta Cephei
Iota Cephei
Delta Cephei
Herschel's Garnet Star
Epsilon Cephei 
Theta Cephei
Nu Cephei
Alkurhah
Pi Cephei
Al Kalb al Rai
"The Right Arm"
"The Flock"
"The Shepherd"
N/A
N/A
N/A
N/A
Named for Red Color
N/A
N/A
N/A
"The Ape"
N/A
"The Shepherd's Dog"
Blue-White Subgiant Star
Triple Star System
Binary Star System
Orange Subgiant Star
Orange Giant Star
Orange Giant Star
Quadruple Star System
Red Supergiant Star
Yellow-White Dwarf Star
Binary Star System
Blue Supergiant Star
Binary Star System
Trinary Star System
Blue Subgiant Star
2.44
3.15
3.22
3.35
3.43
3.50
4.07
4.08
4.18
4.21
4.29
4.29
4.42
5.50
Cepheus contains three stars brighter than magnitude 4. Alderamin is the brightest with a visual magnitude of 2.44. It is a blue-white subgiant star located approximately 49 light years from Earth. Alfirk is the second brightest, with a magnitude of 3.15. Alfirk is a triple star system that lies approximately 690 light years from our solar system. Alrai is a binary star system. At magnitude 3.0, it is the third brightest star in this constellation.
Cepheus contains no Messier objects but does contain several dim deep-sky objects that can only be seen in large telescopes. NGC 6946, the Fireworks Galaxy, is a spiral galaxy in which nine supernovae have been observed. This is more than any other galaxy. Other notable objects in Cepheus include the Cave Nebula, the Iris Nebula (NGC 7023), and the Wizard nebula (NGC 7380). These objects are extremely faint and can only be seen with large telescopes.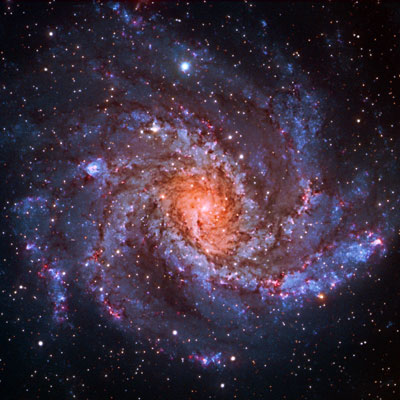 Telescope image of NGC 6946, the Fireworks Galaxy
© Göran Nilsson; The Liverpool Telescope / CC BY 4.0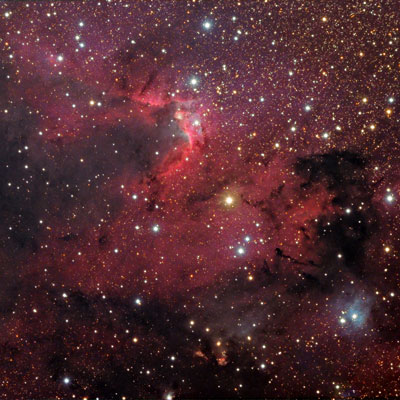 Amateur telescope image of the Cave Nebula
© Hewholooks / CC BY 3.0
Telescope image of NGC 7380, the Wizard Nebula
© Ngc1535 / CC BY 4.0
Telescope image of NGC 7023, the Iris Nebula
© Hewholooks / CC BY 3.0