Pronunciation:
(uh-KWER-ee-us)
Abbreviation:
Aqr
&nbsp&nbspGenitive:
Aquarii 
Right Ascension:
23 hours
&nbsp&nbspDeclination:
-15 degrees
Area in Square Degrees:
980
Crosses Meridian:
9 PM, October 10
Visible Between Latitudes:
65 and -90 degrees
The constellation Aquarius, the water bearer, is visible in the fall in the northern hemisphere and spring in the southern hemisphere. It can be seen at latitudes between 65 degrees and -90 degrees. It is a large constellation, covering 980 square degrees. This makes it the 10th largest constellation in the night sky. It is bordered by the constellations Aquila, Capricornus, Cetus, Delphinus, Equuleus, Pegasus, Pisces, Piscis Austrinus, and Sculptor. It shares an area of sky with other water constellations such as Cetus, the sea monster, Pisces, the fish, and Eridanus, the river. Aquarius is one of the 13 constellations of the zodiac. This means that it lies along the path the Sun travels in the sky during the year. It is also the origin point for the annual Delta Aquarids meteor shower.
Aquarius is one of the 48 constellations listed by the Greek astronomer Ptolemy in the second century. It is represented as a man pouring water from a bucket into the mouth of the Southern Fish, depicted by the constellation Piscis Austrinus. This ancient constellation has its roots in a number of cultures. In Babylonian mythology, Aquarius was associated with the god Ea. The ancient Egyptians believed that it represented the god of the Nile. In Greek mythology, Aquarius was Ganymede, a Trojan youth who was carried off to Olympus by Zeus to serve as the cupbearer to the gods.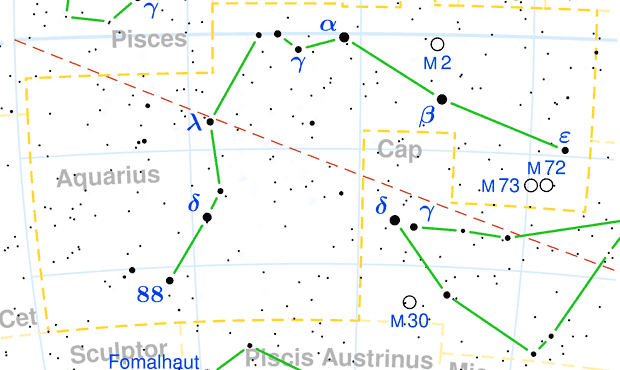 Aquarius constellation map © Torsten Bronger CC BY-SA 3.0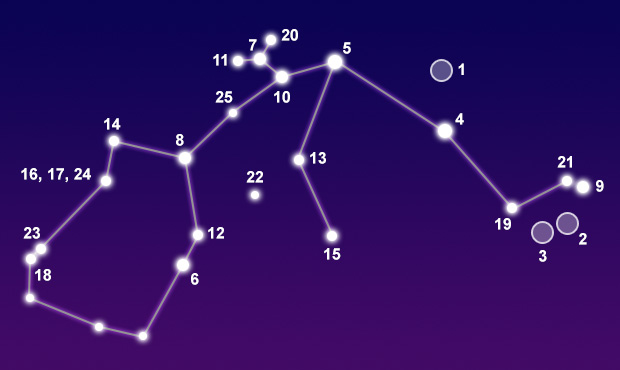 The constellation Aquarius showing common points of interest below © Sea and Sky
Object
Designation
Name / Meaning
Object Type
V Mag
1
2
3
4
5
6
7
8
9
10
11
12
13
14
15
16
17
18
19
20
21
22
23
24
25
M2
M72
M73
Sadalsuud
Sadalmelik
Skat
Sadaltager
Lambda Aquarii
Albali
Sadachbia
Eta Aquarii
Tau-2 Aquarii
Ancha
Phi Aquarii
Iota Aquarii
Psi-1 Aquarii
Psi-2 Aquarii
Omega-2 Aquarii
Nu Aquarii
Pi Aquarii
Mu Aquarii
Sigma Aquarii
Omega-1 Aquarii
Psi-3 Aquarii
Situla
N/A
N/A
N/A
"Luck of Lucks"
"Luck of the King"
"Leg"
"Luck of the Merchant"
N/A
"The Drinker"
"Luck of the Tents"
N/A
N/A
"Hip Bone"
N/A
N/A
N/A
N/A
N/A
N/A
N/A
N/A
N/A
N/A
N/A
"Water Jar"
Globular Star Cluster
Globular Star Cluster
Open Star Cluster
Yellow Supergiant Star
Yellow Supergiant Star
Blue Subgiant Star
Binary Star System
Red Giant Star
Blue Subgiant Star
Binary Star System
Blue-White Subgiant Star
Orange Giant Star
Yellow-White Subdwarf Star
Binary Star System
Blue-White Dwarf Star
Triple Star System
Blue-White Dwarf Star
Blue-White Dwarf Star
Yellow Giant Star
Binary Star System
Binary Star System
Binary Star System
White Subgiant Star
Binary Star System
Orange Giant star
6.50
9.30
2.80
2.91
2.96
3.25
3.65
3.72
3.77
3.85
4.04
4.04
4.18
4.22
4.28
4.25
4.40
4.49
4.52
4.66
4.73
4.81
4.96
4.95
5.03
Aquarius contains several stars brighter than magnitude 4. The brightest and best-known is Sadalsuud with a visual magnitude of 2.91. It belongs to a rare class of stars known as yellow supergiants. It is 2,200 times brighter that the Sun and contains six times its mass. Sadalmelik is the second brightest star in this constellation at magnitude 2.96. It is also a yellow supergiant located about 800 light years from Earth. At magnitude 3.25, Skat is the third brightest star. It is a blue subgiant about 160 light years away.
Aquarius contains three Messier objects. M2 is a globular star cluster containing about 150,000 stars. It is one of the largest globular clusters known to exist. M72 is another globular cluster located about 53,000 light years from Earth. M73 is an asterism of four stars that appear close together in the sky. Aquarius also contains a number of deep-sky objects that can only be seen in large telescopes. These include the famous Helix Nebula, the Saturn Nebula, the Aquarius Dwarf, and the Atoms for Peace Galaxy.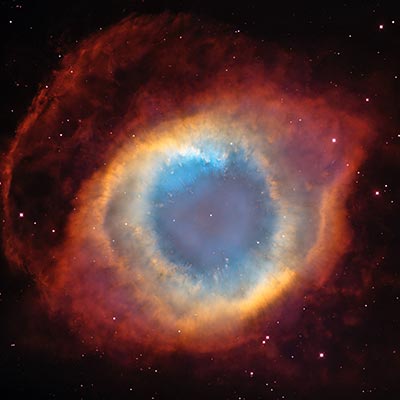 NGC 7293, the Helix Nebula as seen by
the Hubble Space Telescope
NGC 7009, the Saturn Nebula as seen by
the Hubble Space Telescope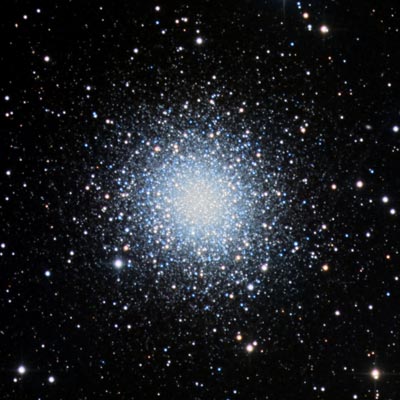 Amateur astrophoto of globular star cluster M2
© SeanXCurry / CC BY-SA 4.0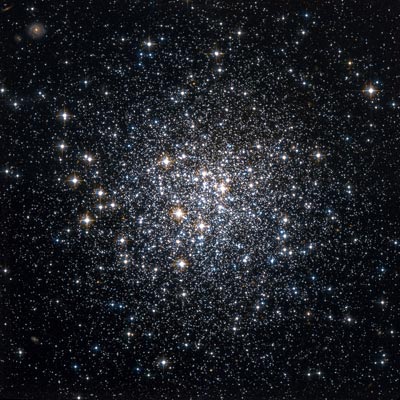 Globular star cluster M72 as seen by
the Hubble Space Telescope