Pronunciation:
(GRUS)
Abbreviation:
Gru
&nbsp&nbspGenitive:
Gruis 
Right Ascension:
22 hours
&nbsp&nbspDeclination:
-45 degrees
Area in Square Degrees:
366
Crosses Meridian:
9 PM, October 10
Visible Between Latitudes:
35 and -90 degrees
The constellation Grus, the crane, is located in the southern hemisphere of the sky. It is visible at latitudes south of 33 degrees north from July through September. It is a relatively small constellation, covering an area of 366 square degrees. It ranks 45th in size among the 88 constellations in the night sky. It is one of the constellations known as the "Southern Birds", along with Pavo, Phoenix, and Tucana. It is bordered by Piscis Austrinus to the north, Sculptor to the northeast, Phoenix to the east, Tucana to the south, Indus to the southwest, and Microscopium to the west.
There is no mythology associated with the constellation Grus. It is one of twelve constellations identified by Petrus Plancius based on observations by Dutch navigators. Its name means "the crane" in Latin. It first appeared on a celestial globe created by Plancius in 1598 and was later included in Johann Bayer's star atlas in 1603. In the early 17th century, the constellation was briefly known as Phoenicopterus, which is Latin for "the flamingo". The name was eventually changed back to Grus.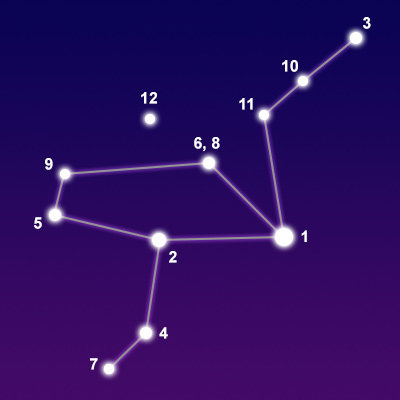 The constellation Grus showing common
points of interest below © Sea and Sky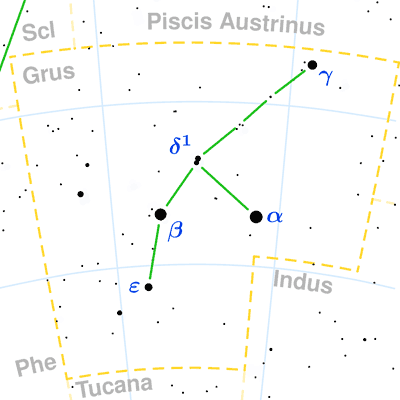 Grus constellation map
© Torsten Bronger CC BY-SA 3.0
Object
Designation
Name / Meaning
Object Type
V Mag
1 2 3 4 5 6 7 8 9 10 11 12
Alnair
Gruid
Aldhanab
Epsilon Gruis
Iota Gruis
Delta-1 Gruis
Zeta Gruis
Delta-2 Gruis
Theta Gruis
Lambda Gruis
Mu-1 Gruis
Rho Gruis
"The Bright one"
(Origin Unknown)
"The Tail"
N/A
N/A
N/A
N/A
N/A
N/A
N/A
N/A
N/A

Blue-White Subdwarf Star
Red Giant Star
Blue Giant Star
Blue-White Subgiant Star
Orange Giant Star
Yellow Giant Star
Orange Giant Star
Red Giant Star
Triple Star System
Orange Giant Star
Yellow Giant Star
Orange Giant Star
1.74
2.15
3.00
3.49
3.88
3.97
4.13
4.17
4.33
4.48
4.81
4.85
Grus contains four stars brighter than magnitude 4. The brightest is Alnair with a visual magnitude of 1.74. It is a blue-white subdwarf star located approximately 101 light years from Earth. Gruid is the second brightest star with a magnitude of 2.15. It is a red giant star that is 180 times larger and 1,500 times brighter than the Sun. The third largest star is Aldhanab with a magnitude of 3.0. It is a blue giant star that lies about 211 light years from our solar system.
Grus contains no Messier objects. It does, however, contain a number of dim deep-sky objects that can only be seen in large telescopes. One of the most notable of these is NGC 7424. It is a barred spiral galaxy approximately 100,000 light years in diameter, which makes it similar in size to our own Milky Way galaxy. Another interesting object in this constellation is IC 5148, the Spare-tyre Nebula. It is a planetary nebula that gets its name from its shape which resembles that of a tire. It has one of the fastest rates of expansion of any planetary nebula.
Barred spiral galaxy NGC 7424 in Grus
© European Southern Observatory / CC BY 4.0
Planetary Nebula IC 5148, the Spare-tyre Nebula
© European Southern Observatory / CC BY 3.0