The sea is a wondrous and magical place. It is world of light and shadow, full of amazing creatures that stimulate the imagination. Here, beneath the waves, can be found both the beautiful and the bizarre. The coral reef is one of the Earth's most diverse environments. Thousands of unique species inhabit an ecosystem that has been called the rainforest of the sea. Further down in the depths lies an eerie world of cold darkness. In an environment with extremes of both temperature and pressure, life actually flourishes. But here, evolution has taken a bizarre turn. Grotesque alien creatures patrol the darkness, illuminating the way with artificial lights produced within their bodies. Welcome to the mysteries of the Ocean Realm.
Coral Reef Life
Join Sea and Sky for an amazing look at the creatures that make their home in the world's coral reefs. Discover sponges, corals, mollusks, and crustaceans, and marvel at the endless variety of reef fishes.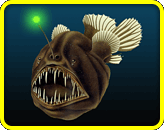 Creatures of the Deep Sea
Sea and Sky invites you to take a journey to the bottom of the sea. Dive to the deepest reaches of the world's oceans, and discover the bizarre, alien creatures that live in these dark and cold places.
"The sea is emotion incarnate. It loves, hates, and weeps. It defies all attempts to capture it with words and rejects all shackles. No matter what you say about it, there is always that which you can't."
— Christopher Paolini, Author