Sea Reviews: Video Review
Ghosts of the Abyss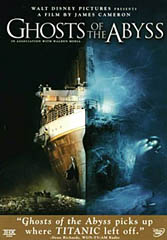 Format:

DVD, Widescreen
Studio:

Walt Disney Studios Home Entertainment
Release Date:

April 27, 2004
Running Time:

59 Minutes
Region:

1 (U.S. and Canada only)
Walt Disney Pictures and James Cameron, the Academy Award(R)-winning director of TITANIC (1997), present the groundbreaking cinematic achievement GHOSTS OF THE ABYSS. Joined by his personal friend Bill Paxton (TITANIC) and a team of the world's foremost historical and marine experts, Cameron journeys back to the site of his greatest inspiration -- the legendary wreck of the TITANIC. During the voyage, you will explore inside the entire ship, deck by deck, room by room, encountering mysteries that have remained hidden for almost a century. Revolutionary underwater robots were designed and built solely for the purpose of allowing the explorers to peer deep into the remains of the once-great ship and bring those surreal and haunting images back to the surface world. Loaded with unseen footage, revealing interviews, and innovative DVD bonuses, this unprecedented motion picture event is a must-own companion for anyone who loves TITANIC.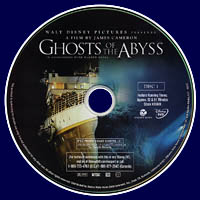 Disk one of this extraordinary set contains over 30 minutes of original songs bubbling with fun and information. Meet the Shark in the Dark; slide with Slippery Seal and do the Crocodile Crunch, as we unveil the sea's most infamous and beautiful creatures. You will be sure to find something to suit all tastes and moods. Song titles include Swishy Friends, My Little Shell, Visit The Aquarium, Shark In The Dark, Slippery Seal, Marine Mix, Jellyfish Drifting, Crocodile Crunch, Eight Armed Octopus, Magical Sea Horses, and Going To See. Although these songs were originally designed with children from kindergarten to sixth grade in mind, I can assure you that the high production values and imaginative writing will appeal to people of all ages. I even found myself tapping my foot along with a few of these catchy tunes. If your little ones are interested in ocean life, then this album is sure to be a big hit for the entire family.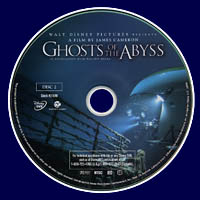 Disk two of the Swishy Friends set contains a 29-page, beautifully illustrated e-Book of printable song lyrics and associated drawings. The images on this disk are fully reproducible, royalty free, on any home or school printers for use in sing-alongs, rhyming reading, language acquisition or just plain enjoyment. This e-Book contains the complete lyrics for each song featured on disk one. The lyrics pages are accompanied by a wealth of original hand-drawn illustrations that can be printed, painted, and decorated by a creative child. The e-Book has been made available in Adobe Acrobat format to ensure compatibility with all computers and operating systems. When the CD is inserted into the computer's CD-Rom drive, the e-Book automatically opens up in the Adobe Acrobat reader and is ready to view or print. This supplemental material is the perfect complement to an absolutely wonderful musical journey to the depths of the oceans!