Wikipedia Public Domain Image
William Beebe
1877 - 1962
American naturalist, ornithologist, marine biologist, entomologist, explorer, and author.
Avid wildlife researcher and publisher of numerous books, articles, and journals.
First scientist to descend into the deep abyss, observing undersea life that had never before seen.
William Beebe at age 18 at his
home in East Orange, New Jersey

Charles William Beebe was an American naturalist, ornithologist, marine biologist, entomologist, explorer, and author. He was born on July 29, 1877 in Brooklyn, New York. He was the son of newspaper executive Charles Beebe. His family soon moved to East Orange, New Jersey where he attended high school. His family was interested in nature, and he had a fascination with the natural world. He enjoyed attending lectures at the newly opened American Museum of Natural History in New York. He had an interest in collecting animals, and he trained himself in taxidermy in order to preserve them. He often traded with other collectors to add to his growing collection. His friends referred to him simply as William Beebe and this is how he would be known from this point forward. He published his first article while he was still in high school. It was a description of a bird known as a Brown Creeper. The article appeared in Harpers Young People magazine in 1895. In 1896 he was accepted into Columbia University. He was extremely talented and received advanced placement. He continued to spend time at the museum and became friends with the museum's president, Henry Fairfield Osborn. Beebe attended a trip to Nova Scotia where he collected specimens and photographed rare animals. He also developed an interest in dredging and used nets to catch animals that lived in the deep sea. He never officially graduated because the university did not have a curriculum for someone so talented. He was eventually granted honorary degrees from Tufts and Colgate University.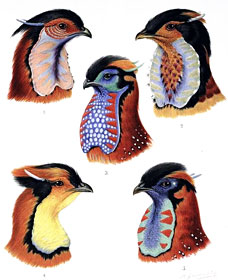 Drawings of pheasants by William Beebe

Beebe became an associate member of the American Ornithologists' Union in 1897. Professor Osborn convinced him to accept a position at the New York Zoological Park which was just about ready to open. It would soon be renamed as the Bronx Zoo. Beebe was offered the position of Assistant Bird Keeper. In 1901, he returned to Nova Scotia on an expedition for the zoo where he collected marine animals by dredging and searching tide pools. In 1902 Beebe was made Full Curator of birds at the zoo. He also married Mary Blair Rice. Together they made a number of trips to collect specimens for the zoo. Their accounts were published in several books, including Two Bird Lovers in Mexico and Our Search for a Wilderness. In 1901 Beebe accepted an offer to lead an expedition to study pheasants around the world. He and his wife set out on a 17-month trip to the Far East and returned to publish A Monograph of the Pheasants, which was an impressive four-volume set. In 1913 Beebe and his wife were divorced, and he turned his interests in the tropical jungles. He soon became director of the new Department of Tropical Research at the zoo. In 1916 he established a research station for the zoo in British Guiana. He continued to publish accounts of his travels and in 1927 he married writer Elswyth Thane Ricker.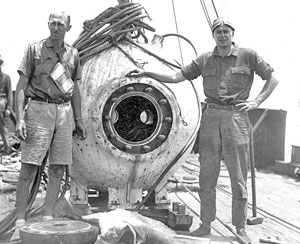 William Beebe next to the bathysphere
Beebe soon turned his interest from the jungle to the ocean. He embarked on expeditions to the Galapagos Islands where he hauled up deep sea creatures in trawling nets. But the delicate creatures never survived when brought to the surface. Beebe developed an interest in ocean diving and began to consider the possibility of diving with a deep-sea vessel to study these amazing creatures in their natural habitat. In 1928 he met a man named Otis Barton, who had been working on a design for a deep diving sphere. Beebe called this new device a bathysphere. It consisted of a hollow steel sphere connected by a cable to a vessel on the surface. After several successful test dives, on August 15, 1934, William Beebe and Otis Barton made history with a record descent to 3,028 feet (923 meters) off the coast of Bermuda. Beebe was able to observe a numbers of animals that had never before been seen alive. In 1952, at the age of 75, Beebe retired from his position as Director of Tropical Research at the zoo. He died in 1962 at the age of 84. He left the world with a gold mine of books, articles, and journals about the natural world. He is regarded by many as the "Jacques Cousteau" of his time.