James Cameron
1954 - Present
Canadian film director, film producer, screenwriter, and deep-sea explorer.
Academy Award winning director of the film Titanic.
Developer of underwater camera and remote submersible vehicle technologies.
First person to make a solo dive to the deepest part of the ocean in the Mariana Trench.
James Cameron is a Canadian film director, film producer, screenwriter, and deep-sea explorer. He was born on August 16, 1954 in Kapuskasing, Ontario, Canada. He grew up in Chippawa, Ontario along with his brother Mike. As a child, Cameron was fan of science fiction, an interest that would eventually define his career. His mother was an artist and she encouraged him to draw and paint. After seeing the film, 2001: A Space Odyssey, he became interested in movies and began to experiment with 16-mm film. He was 17 when his family moved to Brea, California in 1971. He enrolled in Fullerton College to study physics and English, but dropped out to pursue his dreams in cinema. He married a waitress and took a job driving trucks for the local school district. While driving, he would often pull off to the side of the road to work on his screenplays. After seeing the film Star Wars in 1977, he quit his truck driving job and decided to enter the film industry. He spent what little money he had on photographic equipment and built his own dolly track. In 1978, he made his first short film called Xenogenesis. This film helped him to get a job at New World Pictures, which was run by the famous B-movie director Roger Corman. While at New World, he worked as a model builder and production designer on early films such as Battle Beyond the Stars in 1980. A year later he got his first job directing on Piranha II: The Spawning. He was fired as director but was allowed to stay on to assist in shooting. While shooting the film in Rome, Cameron became ill with food poisoning. During his illness, he had a nightmare about an invincible robot from the future trying to kill him. Thus, The Terminator was born.
Cameron's interest in deep sea exploration
began with the filming of Titanic
Cameron completed a screenplay for The Terminator and decided to sell it so that he could make the movie. Unfortunately, most production companies were unwilling to hire such a young, inexperienced director. He finally found Hemdale Pictures, which was willing to let him direct the picture. Cameron sold them the screenplay for one dollar on condition that he would direct the film. The movie was a box office hit and the rest is cinematic history. Cameron was officially one of Hollywood's newest directors. After directing Rambo: First Blood Part II and Aliens, Cameron decided to take on a challenging project that would require hours of underwater filming. For The Abyss, he chose to shoot much of the film underwater at depths of up to 40 feet (12 meters). Most of the filming took place in an unfinished nuclear power plant with two gigantic tanks holding as much as 7,500,000 gallons (28,000,000 liters) of water. The film received mediocre reviews from critics but was a hit with audiences. It also managed to win an academy award for special effects. After several more successful films, Cameron decided to take on the biggest challenge of his career. He wanted to script and direct a film about the sinking of Titanic. Cameron was a perfectionist and wanted authentic footage of the ship for the film. He embarked on several deep dives to the wreck site, and much of the footage he shot was used in the final film.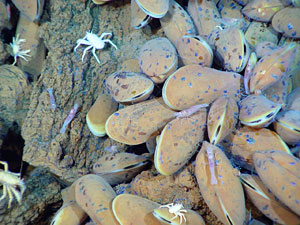 Unusual life forms in deep sea trenches
Cameron's experience on Titanic left him with a newfound interest in deep-sea diving. In 1998 he formed a digital media company called Earthship Productions. He returned to the ocean to produce a number of documentary films. He dove to the wreck of the Bismarck for the 2002 film Expedition: Bismarck. He returned to the Titanic for the films Ghosts of the Abyss in 2003 and Titanic Adventure in 2005. Cameron decided to embark on the greatest challenge of his life by making a solo dive to the Challenger Deep in the Mariana Trench. Located in the Pacific Ocean, it is the deepest place on Earth. On March 25, 2012, he took the submersible Deepsea Challenger and descended for over two hours into the cold darkness. He reached a depth of 6.78 miles (10.91 km) and became the first person to make a solo dive to this spot. He spent nearly three hours on the ocean floor, exploring and filming the desolate landscape. During his dive, he discovered many new species including a sea cucumber, a squid worm, and a giant, single-celled amoeba as large as a baseball. Cameron continues to break new ground in film. His 2009 film Avatar heralded a new age of digital filmmaking technology. He is currently working three sequels to the film, the first of which is due to be released to theaters in 2015. He has won a number of prestigious film awards including the Academy award for best director for his work on Titanic.