Pronunciation:
(SER-penz)
Abbreviation:
Ser
&nbsp&nbspGenitive:
Serpentis
Right Ascension:
17 hours
&nbsp&nbspDeclination:
0 degrees
Area in Square Degrees:
637
Crosses Meridian:
9 PM, June 30
Visible Between Latitudes:
80 and -80 degrees
The constellation Serpens, the serpent, is best seen in the summer from the northern hemisphere. It is visible at latitudes between 80 degrees and -80 degrees. It is a mid-sized constellation with a total area of 637 square degrees. This ranks it 23rd in size among the 88 constellations in the night sky. Although this is officially one constellation, it is actually split into two distinct, disjoint areas of the sky. It is divided by the constellation Ophiuchus, the Serpent Bearer, who holds the serpent in his hands. These two areas are known as Serpens Caput (the head of the serpent) and Serpens Cauda (the tail of the serpent). This is the only constellation that is split in this fashion.
Serpens is one of the 48 constellations first listed by the Greek astronomer Ptolemy in the second century. Its name means "the serpent" in Latin. It is an ancient constellation that dates back to Babylonian times. It was one of two snake constellations at the time. In Greek mythology, Serpens represents a snake held by the healer Asclepius, which is represented by the constellation Ophiuchus. Asclepius was the son of the god Apollo and was said to be able to bring people back to life. He once killed a snake and saw it brought back to life by an herb that was placed on it by another snake.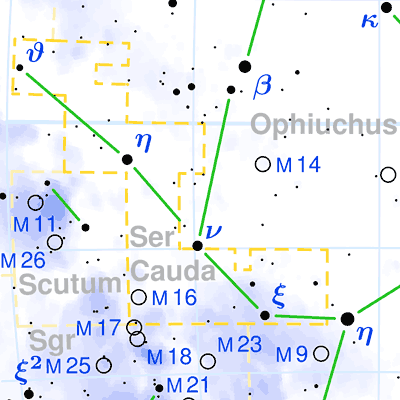 Serpens Cauda constellation map
© Torsten Bronger CC BY-SA 3.0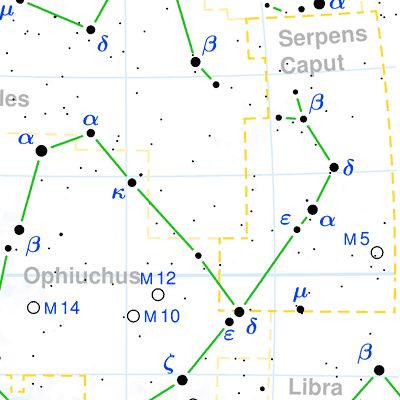 Serpens Caput constellation map
© Torsten Bronger CC BY-SA 3.0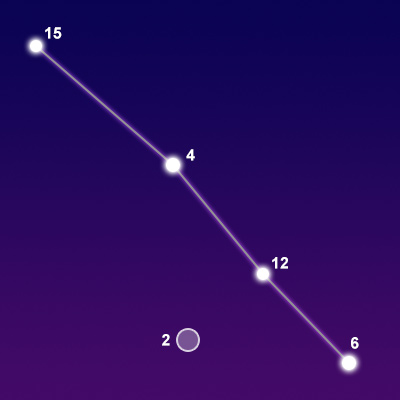 The constellation Serpens Cauda showing common points of interest below © Sea and Sky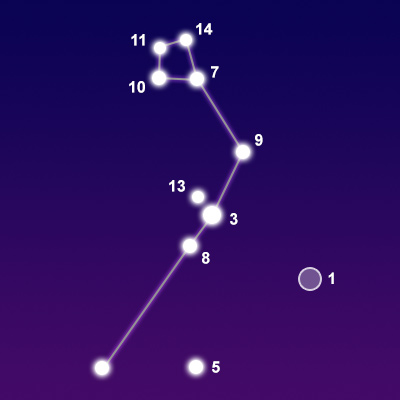 The constellation Serpens Caput showing common points of interest below © Sea and Sky
Object
Designation
Name / Meaning
Object Type
V Mag
1 2 3 4 5 6 7 8 9 10 11 12 13 14 15
M5
M16
Unukalhai
Eta Serpentis
Mu Serpentis
Xi Serpentis
Beta Serpentis
Epsilon Serpentis
Delta Serpentis
Gamma Serpentis
Kappa Serpentis
Nu Serpentis
Lambda Serpentis
Iota Serpentis
Alya
N/A
Eagle Nebula
"Neck of the Snake"
N/A
N/A
N/A
N/A
N/A
N/A
N/A
N/A
N/A
N/A
N/A
"Snake"
Globular Star Cluster
Diffuse Nebula
Red Giant Star
Orange Subgiant Star
White Dwarf Star
Triple Star System
Triple Star System
White Dwarf Star
Binary Star System
Yellow-White Dwarf Star
Red Giant Star
Binary Star System
Yellow Dwarf Star
Binary Star System
Triple Star System
6.65
6.00
2.63
3.26
3.54
3.54
3.65
3.71
3.80
3.85
4.09
4.32
4.43
4.51
4.62
Serpens contains a number of stars brighter than magnitude 4. The brightest is Unukalhai with a visual magnitude of 2.63. It is a red giant star that is 38 times brighter than the sun. It is located 74 light years away. The second brightest star is Eta Serpentis with a magnitude of 3.26. It is an orange subgiant star that lies about 60 light years from the Sun. Mu Serpens is the third brightest star with a magnitude of 3.54. It is a white dwarf star located approximately 156 light years from our solar system.
Serpens contains two messier objects. M16 is a diffuse nebula also known as the Eagle Nebula, so named because it resembles an eagle in flight. It is one of the most famous nebulas in the sky because it contains a star-forming region known as the Pillars of Creation. This is a region of dust and gas where new stars and new solar systems are being formed. The other Messier object is M5. It is a globular star cluster that contains over 100,000 stars. Other deep-sky objects in this constellation include the Blinking Galaxy (NGC 6118), spiral galaxy NGC 6118, the Serpens South Star Cluster, Hoag's Object, and the Red Square Nebula. These dim objects can only be seen in large telescopes.
ESO image of M16, the Eagle Nebula in Serpens
© European Southern Observatory / CC BY 4.0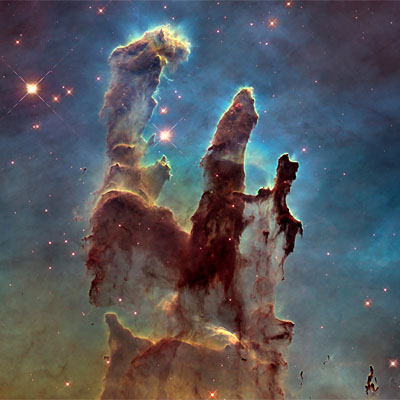 Closeup of the Pillars of Creation in the Eagle Nebula
as seen by the Hubble Space Telescope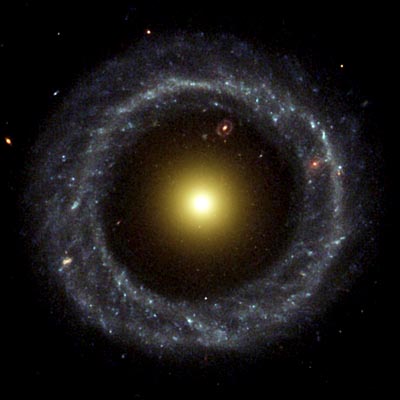 Non-typical galaxy Hoag's Object as seen by
the Hubble Space Telescope
ESO image of spiral galaxy NGC 6118
© European Southern Observatory / CC BY 3.0