Pronunciation:
(SKOR-pee-us)
Abbreviation:
Sco
&nbsp&nbspGenitive:
Scorpii
Right Ascension:
17 hours
&nbsp&nbspDeclination:
-40 degrees
Area in Square Degrees:
497
Crosses Meridian:
9 PM, July 20
Visible Between Latitudes:
40 and -90 degrees
The constellation Scorpius, the scorpion, is located in the southern hemisphere of the sky. It can be seen in summer from the northern hemisphere, but is low in the sky and is best seen from the southern hemisphere or southern United States. It is visible at latitudes between 40 degrees and -90 degrees. It lies between Libra to the west and Sagittarius to the east. It is a medium-sized constellation that occupies 497 square degrees of the sky. It ranks 33rd in size among the 88 constellations of the night sky. Scorpius is easy to find due to its distinct "J" shape, also described as a fishhook. It is one of the thirteen constellations of the zodiac. This means it lies along the path the Sun travels in the sky during the year.
Scorpius is one of the 48 constellations identified by the Greek astronomer Ptolemy in the second century. It is an ancient constellation that pre-dated the Greeks. The Sumerians called it GIT-TAB, which means "the scorpion." In Greek mythology, it represented the scorpion sent by a jealous Artemis to slay Orion. It was this scorpion's sting that caused Orion's death. In another version, it was the Earth that sent the scorpion to kill Orion after he bragged about being able to kill any wild beast. The scorpion still chases Orion across the heavens, but will never catch him because it rises in the East after Orion has set in the West.
The constellation Scorpius showing common points
of interest below © Sea and Sky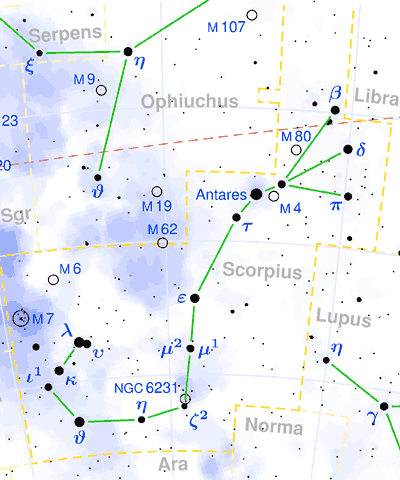 Scorpius constellation map
© Torsten Bronger CC BY-SA 3.0
Object
Designation
Name / Meaning
Object Type
V Mag
1 2 3 4 5 6 7 8 9 10 11 12 13 14 15 16 17 18 19 20 21 22
M4
M6
M7
M80
Antares
Shaula
Sargas
Dschubba
Wei
Girtab
Acrab
Lesath
Alniyat
Alniyat
Pi Scorpii
Apollyon
Mu-1 Scorpii
Eta Scorpii
Mu-2 Scorpii
Rho Scorpii
Jabbah
Graffias
N/A
Butterfly Cluster
Ptolemy Cluster
N/A
"Rival of Mars"
"Raised Tail"
(Origin Unknown)
"The Forehead"
"Tail"
"Scorpion"
"The Scorpion"
"Poisonous Bite"
"The Arteries"
"The Arteries"
N/A
Name of an Angel
N/A
N/A
N/A
N/A
"The Forehead"
"Claws"
Globular Star Cluster
Open Star Cluster
Open Star Cluster
Globular Star Cluster
Red Supergiant Star
Triple Star System
Yellow Giant Star
Binary Star System
Orange Giant Star
Binary Star System
Binary Star System
Blue Subgiant Star
Blue Subgiant Star
Multiple Star System
Triple Star System
Yellow-White Supergiant Star
Binary Star System
Yellow-White Subgiant Star
Blue-White Subgiant Star
Binary Star System
Multiple Star System
Multiple Star System
5.90
4.20
3.30
7.87
0.96
1.63
1.85
2.31
2.31
2.39
2.62
2.69
2.82
2.88
2.89
3.03
3.04
3.33
3.56
3.86
4.01
4.16
Scorpius is famous for the bright orange star known as Antares. It is the brightest star in the constellation with a visual magnitude of 0.96. Antares is a red supergiant star located approximately 550 light years from Earth. It is the 16th brightest star in the night sky and its distinctive orange glow can easily be seen in the southern sky. The second brightest star in this constellation is Shaula with a magnitude of 1.63. It is a triple star system about 700 light years away. Sargas is the third brightest star with a magnitude of 1.85. It is a yellow giant star that lies some 300 light years from our solar system.
Scorpius contains four Messier objects, all of which are star clusters. M6, also known as the Butterfly Cluster, is an open cluster of 80 stars that forms the shape of a butterfly. M7, also known as the Ptolemy cluster, is an open cluster of about 80 stars. M4 and M80 are both globular star clusters. M80 is one of the most densely populated clusters in our galaxy. M4 is much less densely packed. Scorpius also contains several non-Messier objects. The Butterfly Nebula (NGC 6302) is a bipolar planetary nebula that gets its bane from its butterfly-like appearance. The Cat's Paw Nebula (NGC 6334), is an emission nebula where new stars are being formed. The War and Peace Nebula (NGC 6357) is diffuse nebula and an area of active star formation.
Globular star cluster M4 in Scorpius as seen
by the Hubble Space Telescope
NGC 6302, the Butterfly Nebula as seen by
the Hubble Space Telescope
ESO image of NGC 6334 the Cat's Paw Nebula
© European Southern Observatory / CC BY 4.0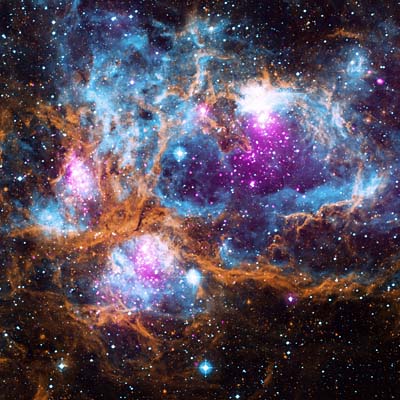 NGC 6357, the War and Peace Nebula as seen
by the Hubble Space Telescope