Pronunciation:
&nbsp(FEE-niks)
Abbreviation:
&nbspPhe
&nbsp&nbspGenitive:
&nbspPhoenicis 
Right Ascension:
&nbsp1 hour
&nbsp&nbspDeclination:
&nbsp-50 degrees
Area in Square Degrees:
&nbsp469
Crosses Meridian:
&nbsp9 PM, November 20
Visible Between Latitudes:
&nbsp30 and -90 degrees
The constellation Phoenix, the phoenix, is located in the southern hemisphere of the sky. It is completely visible in latitudes south of 32 degrees from September through November, all though it is very low in the sky for anyone north of 40 degrees. It is a medium-sized constellation occupying an area of 469 square degrees. This makes it the 37th largest constellation in the night sky. It is bordered by Fornax and Sculptor to the north, Grus to the west, Tucana to the south, touching on the corner of Hydrus to the south, and Eridanus to the east and southeast. It is one of four constellations known as the "Southern Birds," along with Grus, Pavo, and Tucana.
There is no mythology surrounding the constellation Phoenix. It is the largest of twelve constellations listed by astronomer Petrus Plancius based on the observations of Dutch navigators. It first appeared on a celestial globe published by Plancius in 1597. It was later included in Johann Bayer's star atlas published in 1603. The constellation represents the mythological bird that would be consumed by fire and then emerge from the flames reborn. The phoenix was believed to resemble an eagle with purple, gold, and red feathers. It would live for 500 years and then burst into flames and die in the fire. A new bird would then emerge from the ashes of the old.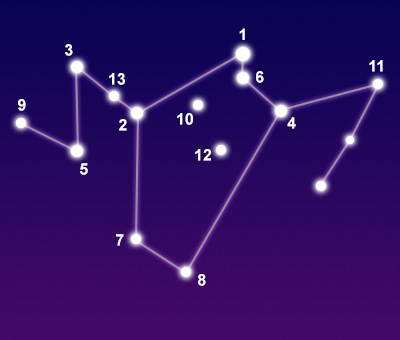 The constellation Phoenix showing common
points of interest. © Sea and Sky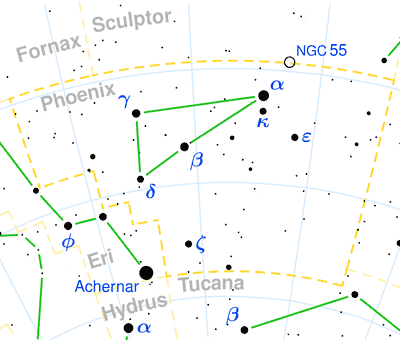 Phoenix constellation map.
© Torsten Bronger CC BY-SA 3.0
Object
Designation
Name / Meaning
Object Type
V Mag
1 2 3 4 5 6 7 8 9 10 11 12 13
Ankaa
Beta Phoenicis
Gamma Phoenicis
Epsilon Phoenicis
Delta Phoenicis
Kappa Phoenicis
Zeta Phoenicis
Eta Phoenicis
Psi Phoenicis
Mu Phoenicis
Iota Phoenicis
Lambda-1 Phoenicis
Nu Phoenicis
"The Phoenix"
N/A
N/A
N/A
N/A
N/A
N/A
N/A
N/A
N/A
N/A
N/A
N/A
Orange Giant Star
Binary Star System
Red Giant Star
Orange Giant Star
Yellow Giant Star
White Subgiant Star
Binary Star System
White Subgiant Star
Red Giant Star
Yellow Giant Star
White Dwarf Star
White Dwarf Star
Yellow-White Dwarf Star
2.38
3.32
3.41
3.87
3.93
3.94
4.10
4.36
4.41
4.59
4.71
4.76
4.96
Phoenix only has a few stars brighter than magnitude 4. Ankaa is the brightest star in the constellation. It is an orange giant star with a visual magnitude of 2.38. Beta Phoenicis is the second brightest, with a magnitude of 3.32. It is a binary star system located about 105 light years from Earth. Gamma Phoenicis is a red giant star with a magnitude of 3.41.
Phoenix contains no Messier objects and no notable deep-sky objects. It does contain quite a few extremely dim galaxies, but these can only be seen with very large telescopes.