Pronunciation:
(PY-seez)
Abbreviation:
Psc
&nbsp&nbspGenitive:
Piscium 
Right Ascension:
1 hour
&nbsp&nbspDeclination:
15 degrees
Area in Square Degrees:
889
Crosses Meridian:
9 PM, November 10
Visible Between Latitudes:
90 and -65 degrees
The constellation Pisces, the fishes, is visible in the sky between October and December in the northern hemisphere. It Can be seen at latitudes between 90 degrees and -65 degrees. It is a large constellation, occupying 889 square degrees. This makes it the 14th largest constellation in the night sky. It lies between Aquarius to the west and Aries to the east and is just south of Pegasus. Pisces is one of the thirteen constellations of the zodiac. This means that it lies along the path the Sun travels in the sky during the year. The March equinox is currently located in Pisces. However, due to procession of the earth's axis, it is slowly drifting towards Aquarius.
The word Pisces is the Latin plural for "fish". It is one of the constellations first cataloged by the Greek astronomer Ptolemy in the second century. The constellation is represented as a pair of fish facing in opposite directions, connected at the tail by a common star. In ancient times, the two fish were shown swimming together. In Greek mythology, the two fish represent the goddess Aphrodite and her son Eros. It was believed that they transformed into fish in order to escape the monster Typhon. Typhon was sent by Gaia, the Earth mother, to defeat the gods. Pan saw the monster coming and turned himself into a goat-fish and jumped into the river Euphrates to escape. He became the constellation Capricornus. Aphrodite and Eros then jumped into the river to escape the monster and were then transformed into the two fish.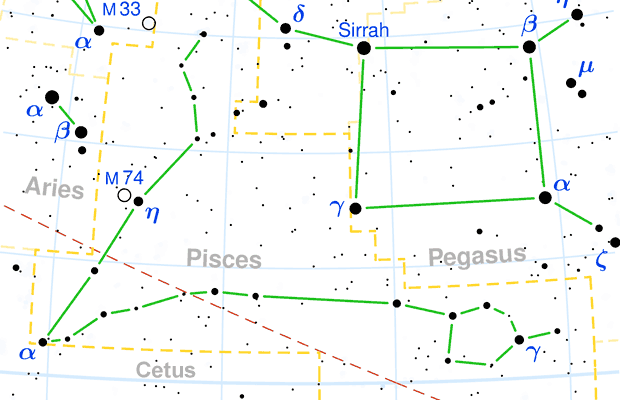 Pisces constellation map © Torsten Bronger CC BY-SA 3.0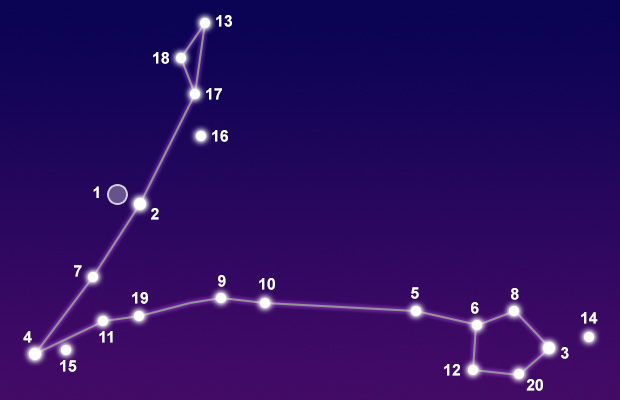 The constellation Pisces showing common points of interest below © Sea and Sky
Object
Designation
Name / Meaning
Object Type
V Mag
1 2 3 4 5 6 7 8 9 10 11 12 13 14 15 16 17 18 19 20
M74
Kallat Nunu
Gamma Piscium
Alrischa
Omega Piscium
Iota Piscium
Omicron Piscium
Theta Piscium
Epsilon Piscium
Delta Piscium
Nu Piscium
Lambda Piscium
Tau Piscium
Fum al Samakah
Xi Piscium
Chi Piscium
Phi Piscium
Upsilon Piscium
Mu Piscium
Kappa Piscium
N/A
"Cord of the Fish"
N/A
"The Well Rope"
N/A
N/A
N/A
N/A
N/A
N/A
N/A
N/A
N/A
"Mouth of the Fish"
N/A
N/A
N/A
N/A
N/A
N/A
Spiral Galaxy
Yellow Giant Star
Yellow Giant Star
Binary Star System
Yellow-White Subgiant Star
Yellow-White Dwarf Star
Yellow Giant Star
Orange Giant Star
Orange Giant Star
Binary Star System
Orange Giant Star
Blue-White Dwarf Star
Orange Giant Star
Blue-White Subgiant Star
Binary Star System
Orange Giant Star
Binary Star System
Blue-White Dwarf Star
Multiple Star System
Multiple Star System
9.40
3.62
3.69
3.82
4.04
4.13
4.26
4.27
4.28
4.43
4.45
4.49
4.51
4.53
4.61
4.66
4.68
4.75
4.84
4.93
Pisces contains mostly dim stars. The brightest is known as Kallat Nunu. It is a yellow giant star with a visual magnitude of 3.62. It is 316 times more luminous than the Sun and is 26 times larger. Gamma Piscium is the second brightest star at magnitude 3.69. It is also a yellow giant star 10 times the size of the Sun and 61 times brighter. With a magnitude of 3.82, Alrischa is the third brightest star. It is a binary star system located about 140 light years from Earth.
Pisces contains one Messier object known as M74. It is a beautiful face-on spiral galaxy located 32 million light years from Earth. It is very dim, which makes it difficult for amateur astronomers to observe. It is believed to contain about 100 million stars. Several other dim galaxies can also be found here as well. The most notable of these is NGC 488, a spiral galaxy with tightly-wrapped spiral arms and dark dust lanes.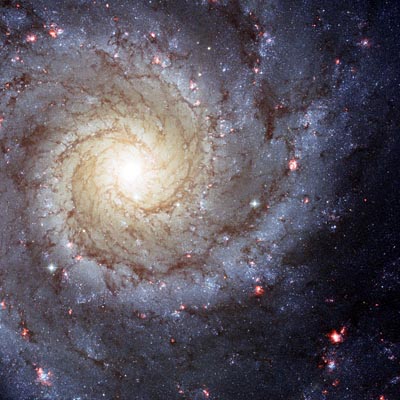 Closeup image of spiral galaxy M74 as seen
by the Hubble Space Telescope
Spiral galaxy NGC 488 © Adam Block/Mount Lemmon SkyCenter/University of Arizona / CC BY-SA 3.0 US