Pronunciation:
&nbsp(KAS-ee-oh-PEE-yuh)
Abbreviation:
&nbspCas
&nbsp&nbspGenitive:
&nbspCassiopeiae 
Right Ascension:
&nbsp1 hour
&nbsp&nbspDeclination:
&nbsp60 degrees
Area in Square Degrees:
&nbsp598
Crosses Meridian:
&nbsp9 PM, November 20
Visible Between Latitudes:
&nbsp90 and -20 degrees
The constellation Cassiopeia, Queen of Ethiopia, can be seen in the northern hemisphere all year long. It is visible at latitudes between 90 degrees and -20 degrees. Since it is located close to the north celestial pole, it is completely below the horizon for anyone located south of -20 degrees. It is a mid-sized constellation occupying 598 square degrees. This makes it the 25th largest constellation in the night sky. It is bordered by Andromeda to the south, Perseus to the southeast, and Cepheus to the north.
Cassiopeia was the wife of Cepheus and mother of Andromeda. She is represented as being chained to her throne in the heavens as punishment for her boast of being more beautiful than all the Nereids. As punishment, the god Poseidon placed Cassiopeia and Cepheus in the sky. Cassiopeia was condemned to circle the celestial pole forever. As the stars rotate throughout the night, Cassiopeia can sometimes be seen hanging upside down as punishment for her vanity.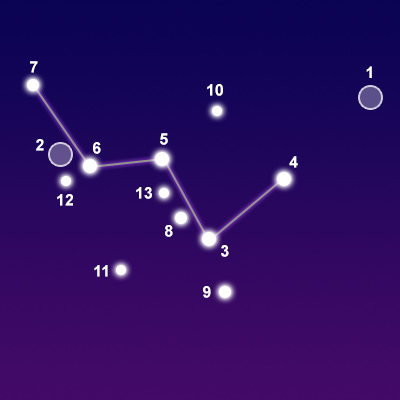 The constellation Cassiopeia showing common
points of interest. © Sea and Sky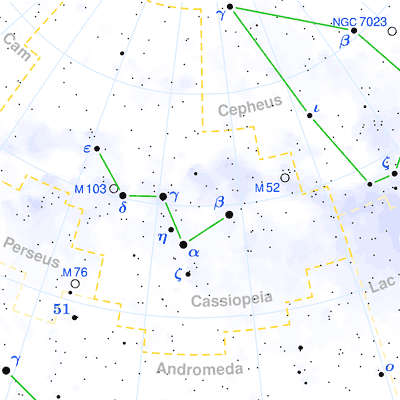 Cassiopeia constellation map.
© Torsten Bronger CC BY-SA 3.0
Object
Designation
Name / Meaning
Object Type
V Mag
1 2 3 4 5 6 7 8 9 10 11 12 13
M52
M103
Shedar
Caph
Navi
Ruchbah
Segin
Achird
Zeta Cassiopeiae
Kappa Cassiopeiae 
Marfak
Chi Cassiopeiae
Castula
N/A
N/A
"The Breast"
"The Palm"
"Ivan" Spelled Backwards
"The Knee"
(Origin Unknown)
(Origin Unknown)
N/A
N/A
"The Elbow"
N/A
"Front of the Garment"
Open Star Cluster
Open Star Cluster
Orange Giant Star
Blue-White Giant Star
Blue Subdwarf Star
Binary Star System
Blue-White Giant Star
Yellow-White Dwarf Star
Blue-White Subgiant Star
Blue-White Supergiant Star
Blue Subgiant Star
Yellow Giant Star
Orange Red Giant Star
5.00
7.40
2.24
2.28
2.47
2.68
3.37
3.44
3.66
4.16
4.34
4.68
4.83
Cassiopeia is one of the most easily recognizable constellations due to its distinctive W or M shape, depending on the time of year and the viewer's location. The stars that make up this W are Segin, Ruchbah, Navi, Shedar, and Caph. Shedar is the brightest star in the constellation with a visual magnitude of 2.24. It is an orange giant star located 228 light years from Earth. Caph is the second brightest. With a magnitude of 2.28, it is believed to be a blue-white giant star 28 times brighter than the Sun. Navi is the third brightest star and makes up the center of the W. It is a variable star with a magnitude of between 1.6 and 3.0.
The Milky Way runs through Cassiopeia so it is rich in deep-sky objects. It contains two Messier objects, M52 and M103. M52 is an open star cluster containing over 190 stars. M103 is another open cluster with approximately 172 stars. The constellation also contains a number of dim objects that can only be seen with large telescopes. These include a supernova remnant known as Cassiopeia A, a planetary nebula known as the Pacman Nebula, and a pair of nebulas known as the Heart Nebula and the Soul Nebula.