Pronunciation:
(LEE-oh)
Abbreviation:
Leo
&nbsp&nbspGenitive:
Leonis
Right Ascension:
11 hours
&nbsp&nbspDeclination:
15 degrees
Area in Square Degrees:
947
Crosses Meridian:
9 PM, April 10
Visible Between Latitudes:
90 and -65 degrees
The constellation Leo, the lion, can be seen in the northern hemisphere in the spring. It is visible at latitudes between 90 degrees and -65 degrees. It is a large constellation covering an area of 947 square degrees. This makes it the 12th largest constellation in the night sky. It is bordered by the constellations Cancer, Coma Berenices, Crater, Hydra, Leo Minor, Lynx, Sextans, Ursa Major and Virgo. Leo is one of the thirteen constellations of the zodiac. This means it lies along the path the Sun travels in the sky during the year. It is easily recognizable in the night sky due to its many bright stars and distinctive shape.
Leo is one of the 48 constellation first identified by the Greek astronomer Ptolemy in the second century. Its name means "lion" in Latin. It is one of the oldest constellations in the sky. The ancient Mesopotamians may have had a constellation similar to Leo as early as 4,000 BC. The Persians called it Shir, and the Babylonians knew it as the Great Lion. The ancient Egyptians worshiped Leo as the place where the Sun rose after creation. It appearance in the night sky coincided with the summer solstice and the flooding of the Nile river. In Greek mythology, it was named after the Nemean lion, which was killed by Hercules on the first of his twelve labors for the king of Mycenae. According to legend, the lion had a hide that could not be pierced by iron, bronze, or stone. Hercules strangled the great beast after unsuccessfully trying to reason with it.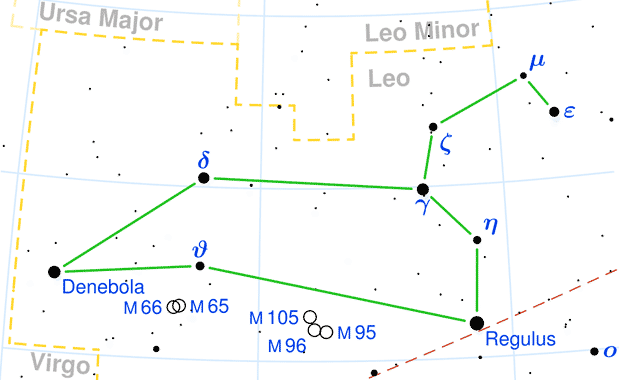 Leo constellation map © Torsten Bronger CC BY-SA 3.0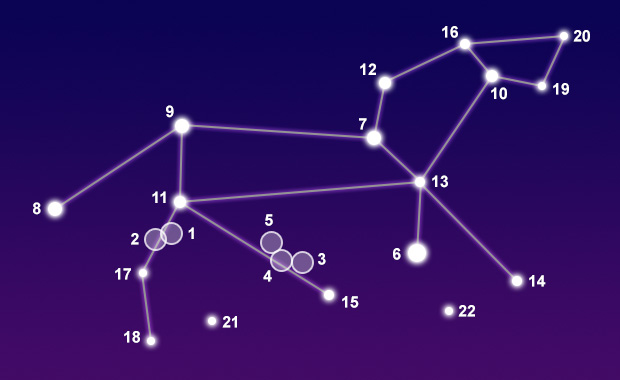 The constellation Leo showing common points of interest below © Sea and Sky
Object
Designation
Name / Meaning
Object Type
V Mag
1 2 3 4 5 6 7 8 9 10 11 12 13 14 15 16 17 18 19 20 21 22
M65
M66
M95
M96
M105
Regulus
Algiebra
Denebola
Zosma
Ras Elased Australis
Chertan
Adhafera
Eta Leonis
Subra
Rho Leonis
Ras Elased Borealis
Iota Leonis
Sigma Leonis
Alterf
Al Minliar al Asad
Chi Leonis
Pi Leonis
N/A
N/A
N/A
N/A
N/A
"Heart of the Lion"
"Forehead of the Lion"
"Tail of the Lion"
"Hip of the Lion"
"Head of the Lion"
"The Rib"
"Curl of Hair"
N/A
"Mane of the Lion"
N/A
"Head of the Lion"
N/A
N/A
"Glance of the Lion"
"Muzzle of the Lion"
N/A
N/A
Spiral Galaxy
Spiral Galaxy
Spiral Galaxy
Spiral Galaxy
Elliptical Galaxy
Multiple Star System
Binary Star System
Blue-White Subgiant Star
Blue-White Subgiant Star
Yellow Giant Star
Blue-White Subgiant Star
Blue-White Giant Star
White Supergiant Star
Blue-White Subgiant Star
Binary Star System
Orange Giant Star
Binary Star System
Blue-White Dwarf Star
Orange Giant Star
Orange Giant Star
Yellow-White Giant Star
Red Giant Star
9.30
8.90
9.70
9.20
9.30
1.36
2.08
2.14
2.56
2.98
3.32
3.44
3.49
3.52
3.87
3.88
4.00
4.04
4.32
4.46
4.63
4.70
Leo contains a number of bright stars. Regulus is the brightest star in the constellation and the 22nd brightest star in the sky with a visual magnitude of 1.36. It was seen in ancient times as the guardian of the heavens. It is a multiple star system composed of at least four stars. It is located 77 light years from Earth. The second brightest star is Algiebra with a magnitude of 2.08. It is a binary star system that lies approximately 130 light years away. Denebola is the third brightest star with a magnitude of 2.14. It is a blue-white subgiant star located approximately 36 light years from our solar system.
Leo contains five Messier objects, all of them galaxies. M65 is an intermediate spiral galaxy with visible dark dust lanes. M66 is another intermediate spiral galaxy located approximately 95,000 light years from Earth. M95 is a barred spiral galaxy that is nearly face-on to our field of view. M96 is another intermediate spiral galaxy. M105 is an elliptical galaxy that is known to have a supermassive black hole at its center. Other notable deep-sky objects include an enormous cloud of hydrogen and helium known as the Leo Ring, a spiral galaxy called the Hamburger Galaxy (NGC 3628), and a number of other dim galaxies that can only be seen with large telescopes.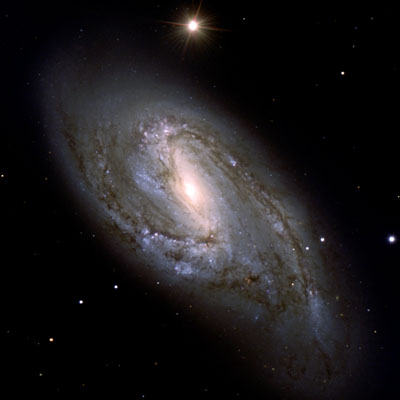 Spiral galaxy M66 in the constellation Leo
© European Southern Observatory / CC BY 4.0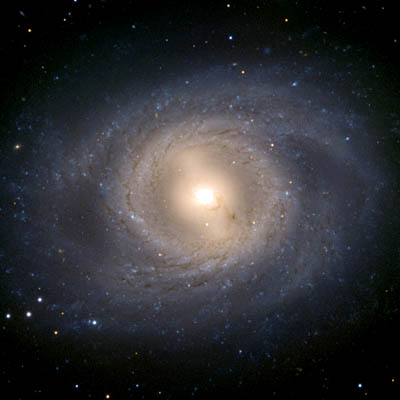 Image of barred spiral galaxy M95
© European Southern Observatory / CC BY 4.0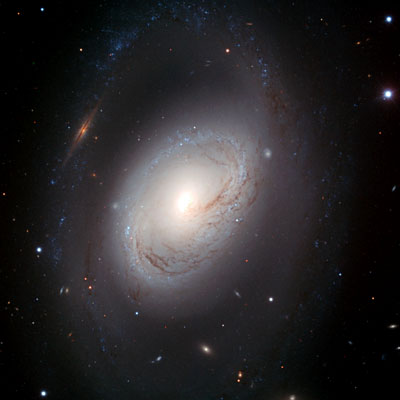 Image of Spiral Galaxy M96 in Leo
© ESO/Oleg Maliy / CC BY 3.0
Hubble mage of elliptical galaxy M105
© ESA/Hubble / CC BY 4.0