Pronunciation:
(HYD-ruh)
Abbreviation:
Hya
&nbsp&nbspGenitive:
Hydrae
Right Ascension:
10 hours
&nbsp&nbspDeclination:
-20 degrees
Area in Square Degrees:
1303
Crosses Meridian:
9 PM, April 20
Visible Between Latitudes:
60 and -90 degrees
The constellation Hydra, the sea serpent, is best seen from the southern hemisphere, but can be observed in the north between January and May. It is visible at latitudes between 54 degrees and -83 degrees. It is the largest constellation in the night sky, covering an area of 1,303 square degrees. It is also one of the longest constellations with a length of over 100 degrees. Its southern end borders Libra and Centaurus and its northern end borders Cancer.
Hydra is one of the 48 constellations first listed by the Greek astronomer Ptolemy in the second century. It is an ancient constellation with roots in many cultures. In Hindu mythology, it represented Ashlesha, one of the Nakshatras of Hindu astrology. The Chinese saw it as the Vermilion Bird and the Azure Dragon. In Greek mythology, it represents the water snake brought to the god Apollo by the crow, Corvus, as an excuse for being late from his errand to fetch water. It may also represent the hydra from the myth of Hercules and his twelve labors. The Hydra was a giant beast with the body of a dog and many snake-like heads. It was slain by Hercules on the second of his twelve labors for the king of Mycenae. As each head was cut off, two more would grow in its place. Hercules burned the roots of the heads to prevent them from growing back. This constellation was once much larger, but was later split into Sextans, Crater, Corvus, and a slightly smaller Hydra.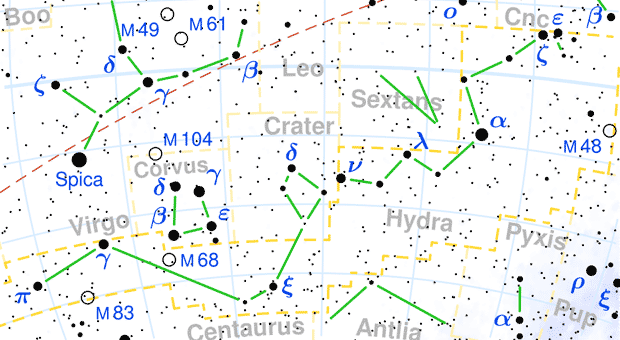 Hydra constellation map © Torsten Bronger CC BY-SA 3.0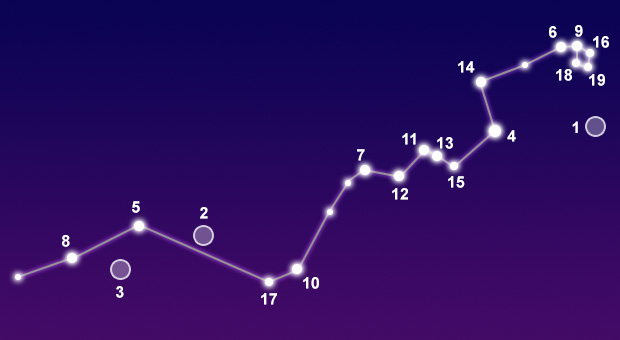 The constellation Hydra showing common points of interest below © Sea and Sky
Object
Designation
Name / Meaning
Object Type
V Mag
1 2 3 4 5 6 7 8 9 10 11 12 13 14 15 16 17 18 19
M48
M68
M83
Alphard
Gamma Hydrae
Hydrobius
Nu Hydrae
Pi Hydrae
Ashlesha
Xi Hydrae
Lambda Hydrae
Mu Hydrae
Theta Hydrae
Iota Hydrae
Upsilon-1 Hydrae
Delta Hydrae
Beta Hydrae
Eta Hydrae
Minchir
N/A
N/A
Southern Pinwheel Galaxy
"Heart of the Hydra"
N/A
"Water Dweller"
N/A
N/A
"Serpent"
N/A
N/A
N/A
N/A
N/A
N/A
N/A
N/A
N/A
"Nostril of Hydra"
Open Star Cluster
Globular Star Cluster
Spiral Galaxy
Orange Giant Star
Yellow Giant Star
Yellow-White Subdwarf Star
Orange Giant Star
Orange Subgiant Star
Binary Star System
Red Giant Star
Orange Giant Star
Orange Giant Star
Blue-White Dwarf Star
Orange Giant Star
Yellow Giant Star
Binary Star System
Binary Star System
Blue-White Dwarf Star
Orange Giant Star
5.50
7.80
7.60
2.00
2.99
3.11
3.12
3.25
3.38
3.54
3.61
3.81
3.88
3.91
4.12
4.14
4.28
4.30
4.45
Hydra contains several stars brighter than magnitude 4. The brightest star in the constellation is Alphard with a visual magnitude of 2.0. It is an orange giant star that is 50 times the size of the Sun. It is located approximately 177 light years from Earth. Gamma Hydrae is the second brightest star with a magnitude of 2.99. It is a yellow giant star located about 134 light years away. Hydrobius is the third brightest star with a magnitude of 3.11. It is a yellow-white subdwarf star that lies some 167 light years from our solar system.
Hydra contains three Messier objects. M48 is an open star cluster that contains about 80 stars. It can easily be seen with the naked eye under the right conditions. M68 is a globular star cluster containing more than 2,000 stars. M83 is a magnificent spiral galaxy also known as the Southern Pinwheel. This constellation also contains a number of dim deep-sky objects that can only be seen with large telescopes. NGC 3314 is a pair of galaxies that appear to overlap. All though they seem to be colliding, one galaxy is in front of the other from our perspective and they are actually separated by a vast distance. Other notable but much more dim deep-sky objects in Hydra include a cluster of 157 galaxies known as the Hydra Cluster, a planetary nebula known as the Ghost of Jupiter (NGC 3242), a globular star cluster called Tombaugh's Globular Cluster, and an interesting edge-on spiral galaxy known as ESO 510-G13.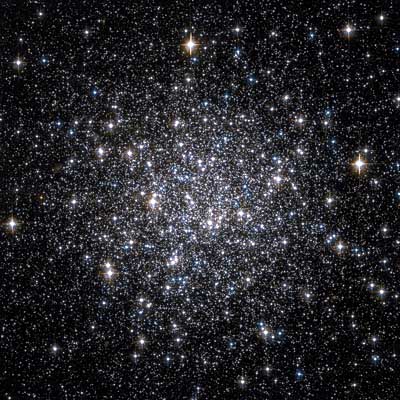 Globular star cluster M68 as seen by
the Hubble Space Telescope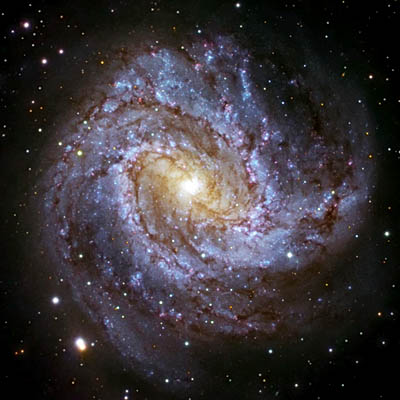 Spiral galaxy M83 © ESO/IDA/Danish 1.5 m/
R. Gendler, S. Guisard and C. Thöne / CC BY 4.0
Overlapping galaxies NGC 3314 as seen by
the Hubble Space Telescope
Planetary nebula NGC 3242, the Ghost of Jupiter
as seen by the Hubble Space Telescope