Pronunciation:
(eh-RID-uh-nus)
Abbreviation:
Eri
&nbsp&nbspGenitive:
Eridani 
Right Ascension:
3 hours
&nbsp&nbspDeclination:
-20 degrees
Area in Square Degrees:
1138
Crosses Meridian:
9 PM, January 5
Visible Between Latitudes:
60 and -90 degrees
The constellation Eridanus, the river, is located in the southern hemisphere of the sky. It is visible from latitudes south of 32 degrees from October through December. It is represented as a long, winding river that starts at the left foot of Orion in the north, sweeps south of Taurus, west to the edge of Cetus, and back east to Caelum. It eventually ends to the south, at the border with Hydrus. It is one of the 48 constellations described by Ptolemy in the second century. Eridanus is the sixth largest constellation, covering an area of 1,138 square degrees. It is also the second longest constellation in the night sky.
Eridanus is one of the 48 constellations first identified by the Greek astronomer Ptolemy in the second century. It is associated with the story of Phaethon in Greek mythology. Phaethon was the son of the Sun god Helios and the Oceanid Clymene. Phaethon wanted to drive his father's sky chariot, but was unable to control it. The chariot veered off course and scorched the heavens and the Earth. Zeus intervened and killed Phaethon with a thunderbolt. Eridanus was supposed to represent the wild path where Phaethon drove his father's chariot. This constellation has also been associated with the Nile River in Egypt and the Po River in Italy. Eridanus is commonly depicted as a river flowing from the waters poured by Aquarius.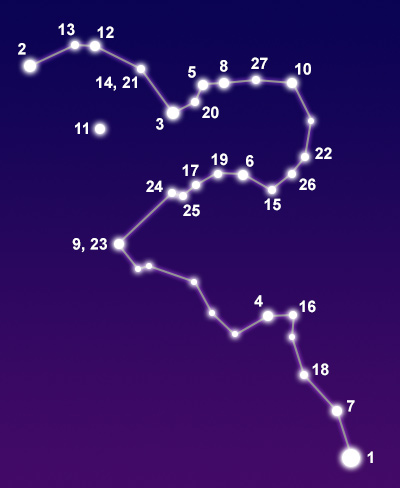 The constellation Eridanus showing common
points of interest below © Sea and Sky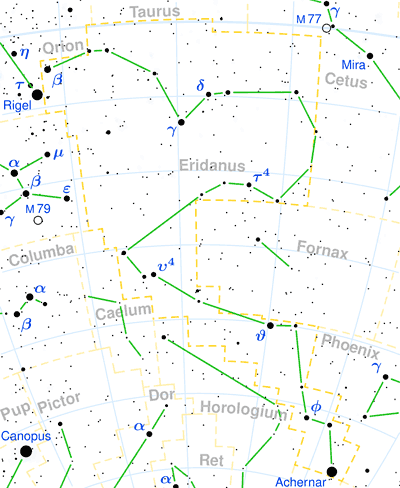 Eridanus constellation map
© Torsten Bronger CC BY-SA 3.0
Object
Designation
Name / Meaning
Object Type
V Mag
1 2 3 4 5 6 7 8 9 10 11 12 13 14 15 16 17 18 19 20 21 22 23 24 25 26 27
Achernar
Cursa
Zaurak
Acamar
Rana
Tau-4 Eridani
Chi Eridani
Sadira
Theemim
Azha
Sceptrum
Nu Eridani
Mu Eridani
Beid
Tau-3 Eridani
Iota Eridani
Tau-6 Eridani
Kappa Eridani
Tau-5 Eridani
Pi Eridani
Keid
Tau-1 Eridani
Upsilon-1 Eridani
Tau-9 Eridani
Tau-8 Eridani
Angetenar
Zeta Eridani
"End of the River"
"Footstool of Orion"
"The Boat"
"End of the River"
"The Frog"
N/A
N/A
"The Ostrich"
(Origin Unknown)
"Hatching Place"
"Scepter"
N/A
N/A
"Ostrich Eggs"
N/A
N/A
N/A
N/A
N/A
N/A
"Broken Eggshell"
N/A
N/A
N/A
N/A
"Bend of the River"
N/A
Blue-White Subgiant Star
Blue Giant Star
Red Giant Star
Binary Star System
Orange Subdwarf Star
Binary Star System
Yellow Subgiant Star
Orange Subgiant Star
Yellow-White Giant Star
Orange Giant Star
Orange Giant Star
Blue-White Subgiant Star
Binary Star System
Yellow-White Giant Star
White Subgiant Star
Red Giant Star
Yellow-White Subgiant Star
Blue-White Subgiant Star
Binary Star System
Red Giant Star
Triple Star System
Binary Star System
Red Giant Star
Binary Star System
Binary Star System
Orange Giant Star
Binary Star System
0.46
2.79
2.91
3.24
3.54
3.65
3.70
3.74
3.82
3.87
3.87
3.93
4.00
4.04
4.10
4.11
4.22
4.25
4.26
4.40
4.43
4.46
4.50
4.63
4.65
4.78
4.80
In spite of its large size, Eridanus only contains a few bright stars. The brightest is Achemar with a visual magnitude of 0.46. It is a blue-white main sequence star located 139 light years from Earth. It is also the ninth brightest star in the sky. Cursa is the second brightest star in Eridanus at magnitude 2.79. It is a blue giant star that lies some 89 light years away. At magnitude 2.91, Zaurak is the constellation's third brightest star. It is a red giant star that has exhausted its supply of hydrogen and is fusing heavier elements.
Eridanus contains no Messier objects but does have a few dozen faint galaxies and nebulas. These include a reflection nebula called the Witch Head Nebula and group of over 200 galaxies known as the Eridanus group. Within this group are a spiral galaxy called NGC 1187, a barred spiral galaxy known as NGC 1300, and a beautiful face-on spiral galaxy called NGC 1232. Unfortunately these objects can only be seen with large telescopes.
Image of IC 2118, the Witch Head Nebula
NASA/JPL Public Domain Image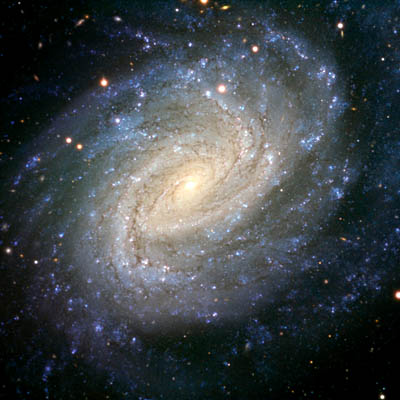 Image of Spiral galaxy NGC 1187
© European Southern Observatory / CC BY 3.0
Barred spiral galaxy NGC 1300 as seen by
the Hubble Space Telescope
Spiral galaxy NGC 1232 in Eridanus
© European Southern Observatory / CC BY 4.0