Pronunciation:
(SEE-tus)
Abbreviation:
Cet
&nbsp&nbspGenitive:
Ceti 
Right Ascension:
2 hours
&nbsp&nbspDeclination:
-10 degrees
Area in Square Degrees:
1231
Crosses Meridian:
9 PM, November 30
Visible Between Latitudes:
70 and -90 degrees
The constellation Cetus, the sea monster, can be seen in the northern hemisphere in the late fall and early winter. It is visible at latitudes between 70 degrees and -90 degrees. It is a very large constellation, occupying a total area of 1,231 square degrees. It is actually the 4th largest constellation in the night sky. It lies in a region of the sky called the Water. Other water-related constellations in this area include Eridanus (the river), Aquarius (the water bearer), and Pisces (the fish).
Cetus is one of the constellations cataloged by the Greek astronomer Ptolemy in the second century. It was named after the sea monster sent by the god Neptune to devour Andromeda in Greek mythology. Andromeda was chained to a rock as a sacrifice to the monster. Cetus was turned to stone when Perseus showed the monster the head of the gorgon Medusa. Today, this constellation is also sometimes identified as a whale. To some, it represents the whale that swallowed Jonah in the famous Bible story.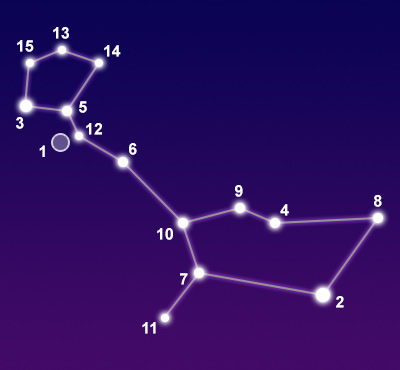 The constellation Cetus showing common
points of interest below © Sea and Sky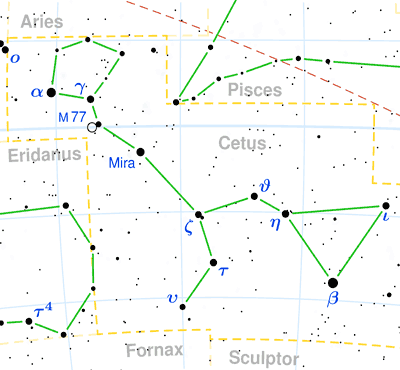 Cetus constellation map
© Torsten Bronger CC BY-SA 3.0
Object
Designation
Name / Meaning
Object Type
V Mag
1 2 3 4 5 6 7 8 9 10 11 12 13 14 15
M77
Diphda
Menkar
Dheneb Algenubi
Kaffaljidhma
Mira
Tau Ceti
Deneb Kaitos Shemali
Theya Ceti
Baten Kaitos
Upsilon Ceti 
Delta Ceti 
Mu Ceti
Xi-2 Ceti
Lambda Ceti 
N/A
"The Frog"
"Nose"
"Southern Tail of Cetus"
"Cut-short Hand"
"The Wonderful"
N/A
"Northern Tail of Cetus"
N/A
"Belly of Cetus"
N/A
N/A
N/A
N/A
N/A
Spiral Galaxy
Orange Giant Star
Red Giant Star
Orange Giant Star
Triple Star System
Binary Star System
Yellow Dwarf Star
Orange Giant Star
Orange Giant Star
Orange Giant Star
Orange Giant Star
Blue-White Subgiant Star
Binary Star System
Blue-White Giant Star
Blue-White Giant Star
8.90
2.02
2.53
3.45
3.47
3.50
3.50
3.56
3.60
3.74
3.99
4.08
4.27
4.28
4.67
Cetus contains several well-known stars. The most famous is probably Mira, the first variable star to be discovered. It was observed by German astronomer David Fabricuis, who noticed it changing in brightness over a period of weeks. It was originally thought to be a nova. But when it brightened again, it was assumed to be a star with variable luminosity. Because of its unusual fluctuations, it was named Mira, the "wonderful star." Another notable star is Menkar (Alpha Ceti), a red giant star located 220 lights years from Earth. Beta Ceti, also known as Diphda, is the brightest star in the constellation. It is an orange giant star located some 96.3 light years from us.
Cetus contains several deep sky objects including one Messier object. M77 is a barred spiral galaxy located about 47 million light years from Earth. It is one of the few that can be seen face-on. Many other dim galaxies are located here that can only be seen with large telescopes. These include a spiral galaxy known as NGC 247 and an oddly-shaped spiral galaxy called NGC 17. A faint planetary nebula known as the Skull Nebula can also be found here.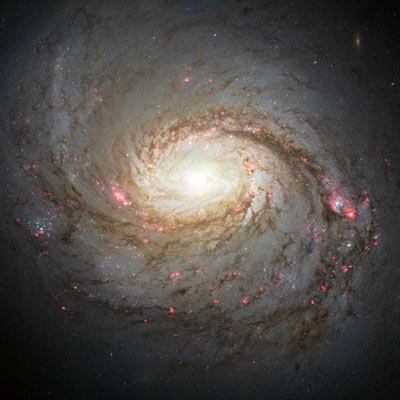 Barred spiral galaxy M77 as seen by the
Hubble Space Telescope
ESO image of spiral galaxy NGC 247
© European Southern Observatory / CC BY 4.0