Pronunciation:
(an-DROM-ih-duh)
Abbreviation:
And
&nbsp&nbspGenitive:
Andromedae 
Right Ascension:
&nbsp1 hour
&nbsp&nbspDeclination:
40 degrees
Area in Square Degrees:
722
Crosses Meridian:
9 PM, November 10
Visible Between Latitudes:
90 and -40 degrees
The constellation Andromeda, Princess of Ethiopia, is visible in the northern hemisphere from August through January. It can be seen and in the southern hemisphere in November. It is below the horizon for anyone south of latitude -40 degrees. Andromeda is a large constellation, covering 722 square degrees of the sky. In fact, it is the 19th largest constellation in the night sky. It is bordered by Perseus, Cassiopeia, Lacerta, Pegasus, Pisces, and Triangulum.
Andromeda is one of the original 48 constellations listed by the Greek astronomer Ptolemy in the second century. It represents the daughter of Cepheus and Cassiopeia, the king and queen of Ethiopia. Andromeda was chained to a rock as a sacrifice to the sea monster Cetus. She was saved by Perseus when he turned Cetus to stone by using the dismembered head of the gorgon Medusa. Perseus and Andromeda were later married and had six children, including Perses, who was the ancestor of the Persians.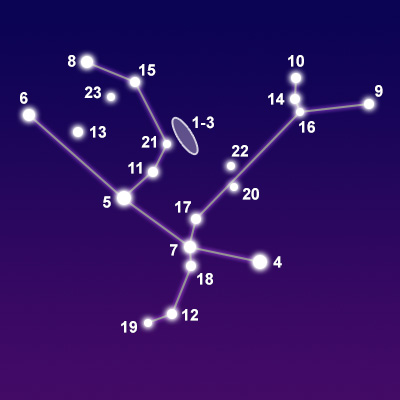 The constellation Andromeda showing common
points of interest below © Sea and Sky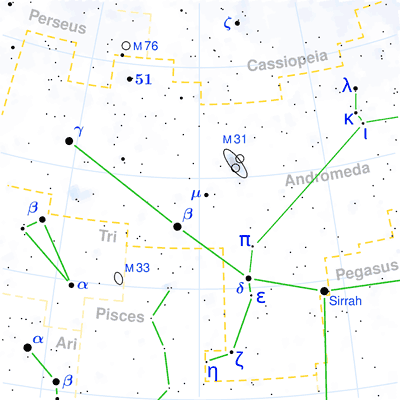 Andromeda constellation map
© Torsten Bronger CC BY-SA 3.0
Object
Designation
Name / Meaning
Object Type
V Mag
1
2
3
4
5
6
7
8
9
10
11
12
13
14
15
16
17
18
19
20
21
22
23
M31
M32
M110
Alpheratz
Mirach
Almach
Delta Andromedae
Nembus
Omicron Andromedae
Lambda Andromedae
Mu Andromedae
Zeta Andromedae
Upsilon Andromedae
Kappa Andromedae
Phi Andromedae
Iota Andromedae
Pi Andromedae
Epsilon Andromedae
Eta Andromedae
Sigma Andromedae
Nu Andromedae
Theta Andromedae
Adhil
Andromeda Galaxy
N/A
N/A
"Navel of the Horse"
"Girdle"
"Desert Lynx"
N/A
(Origin Unknown)
N/A
N/A
N/A
N/A
N/A
N/A
N/A
N/A
N/A
N/A
N/A
N/A
N/A
N/A
"Tail"
Spiral Galaxy
Dwarf Elliptical Galaxy
Dwarf Elliptical Galaxy
Binary Star System
Red Giant Star
Orange Giant Star
Double Star
Orange Giant Star
Binary Star System
Binary Star System
White Dwarf Star
Orange Giant Star
Yellow-White Dwarf Star
Blue-White Subgiant Star
Binary Star System
Blue-White Dwarf Star
Blue-White Dwarf Star
Yellow Giant Star
Binary Star System
White Dwarf Star
Binary Star System
White Dwarf Star
Red Giant Star
3.44
8.08
8.92
2.07
2.07
2.26
3.28
3.57
3.62
3.82
3.87
4.08
4.09
4.14
4.25
4.29
4.36
4.37
4.40
4.51
4.52
4.61
4.90
Andromeda contains several stars brighter than magnitude 4. The brightest is Alpheratz. It is a binary star system with a combined visual magnitude of 2.07. Another star named Mirach has nearly the same magnitude as Alpheratz. It is a Red giant located approximately 200 light years from Earth. Almach is the third brightest star with a magnitude of 2.26. Located 355 lights years from us, it is an orange giant nearly 2,000 times more luminous than the Sun.
Andromeda contains three Messier objects. M31, the famous Andromeda Galaxy, dominates the sky here. This is a gigantic spiral galaxy much larger than our own Milky Way. It is thought to contain over one trillion stars. In comparison, the Milky Way contains between 200 and 400 billion stars. Located about 2.5 million light years from Earth, it is one of the few galaxies that can be seen with the naked eye. It is so close and so large that is fills an area of the sky equal to four full moons side-by-side. Its bright glow can easily be seen from any sufficiently dark location. M32 is a dwarf elliptical galaxy that appears to be a close companion to the Andromeda Galaxy. M110 is another dwarf elliptical galaxy that also appears to be a satellite of M31. The Andromeda constellation contains a few other dim objects including a blue-colored planetary nebula known as NGC 7662, the Blue Snowball Nebula.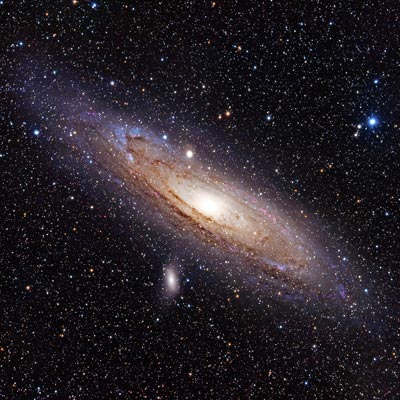 M31, the Andromeda Galaxy. Stars in the foregroud
are in our own galaxy. © Adam Evans / CC BY 2.0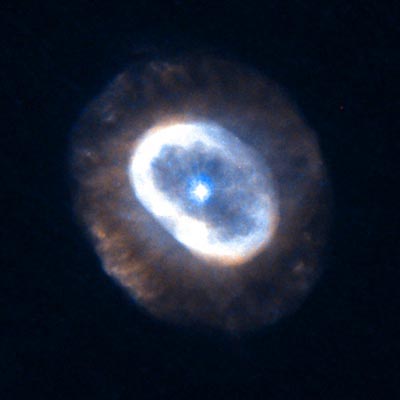 NGC 7662, the Blue Snowball Nebula as seen by
the Hubble Space Telescope