Sea Reviews: Book Review
Planetology
Unlocking the Secrets of the Solar System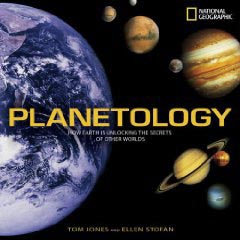 Author:

Tom Jones & Ellen Stofan
Publisher:

National Geographic Books
Format:

Hardcover, 224 pages
Publish Date:

November 18, 2008
Level:

Beginner to Intermediate
In a stunning and completely new view of the solar system, an astronaut and a geologist team up to investigate, through parallel views made possible by cutting-edge space technology, how the earth itself can help science unravel the mysteries of the heavens. Noted planetary geologist Ellen Stofan and veteran astronaut Tom Jones pair images of Earth—many captured by space shuttle and space station crewmembers—with astonishing scenes of alien surfaces beamed home by NASA's far-ranging robotic probes. This comprehensive new portrait of the solar system brings to light an array of important features never seen until today—and it highlights, for the first time, the similarities and contrasts between Earth and its neighbors in space.
Anecdotal stories from space flights and exploratory missions make Planetology an absorbing read as well as an informative resource. The book's unique concept draws intriguing comparisons across multiple physical processes, and its dynamic design offers a fresh approach to the study of space.
Featuring over 250 color photographs and illustrations, Planetology uses the very best and latest NASA images. These amazing photographs include images taken of Saturn and its moons by the Cassini mission as well as images of Mars captured by the fleet of spacecraft on and around the planet. The subject matter of the book goes well beyond the average "Tour of the Solar System" type book. Planetology examines the forces that shape the Solar System, including volcanoes, mountains, craters, and other landscapes. Side-by-side images show the interesting similarities between the bodies of the Solar System and our own planet Earth. The book wraps up with an examination of the intriguing possibilities in the extreme conditions of the Solar System and the search for new planets beyond its borders.
Planetology definitely places in the top of its class for books about the Solar System. The engaging text is highlighted with personal experiences from space flights complements the beautiful images and illustrations. The binding of the book is of extremely high quality, assuring that it will provide many years of enjoyment. The $35.00 retail price makes this book a good bargain for anyone interested in learning more about the Solar System. Planetology is highly recommended by Sea and Sky.