Sea Reviews: Book Review
Hubble
Imaging Space and Time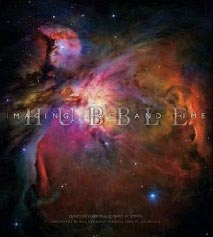 Author:

David Devorkin & Robert Smith
Publisher:

National Geographic Books
Format:

Hardcover, 224 pages
Publish Date:

September 30, 2008
Level:

Beginner to Intermediate
This large-format, full-color volume stands alone in revealing more than 200 of the most spectacular images from the Hubble Space Telescope during its lifetime, to the very eve of the 2008 final shuttle mission to the telescope. Written by two of the world's foremost authorities on space history, Hubble: Imaging Space and Time illuminates the solar system's workings, the expansion of the universe, the birth and death of stars, the formation of planetary nebulae, the dynamics of galaxies, and the mysterious force known as "dark energy."
A wealth of astonishing images leads us to the very edge of known space, setting the stage for the new James Webb Space Telescope, scheduled to launch in 2013. Find the stunning panoramic of Carina Nebula, detailing star birth as never before; a jet from a black hole in one galaxy striking a neighboring galaxy; a jewel-like collection of galaxies from the early years of the universe; and a giant galaxy cannibalizing a smaller galaxy.
Published in association with the Smithsonian's National Air and Space Museum, Hubble is the official companion volume to the museum's permanent Hubble exhibition. The authors present Hubble as an unparalleled feat of engineering. This book is a tribute to the telescope's legacy of illuminating the Solar System and beyond. The book talks about Hubble's beginnings, its controversial early days, the drama of its service missions, and the creation of the breathtaking images that have made it famous. It continues to explore how Hubble has provided evidence that the universe is expanding, detailed the birth and death of stars and the formation of planetary nebulae, exposed the violent collisions of galaxies, and uncovered the mysterious force known as dark energy.
I'm sure most of us have seen many of the amazing images of the universe that have been captures by the Hubble space telescope. But as incredible as these images are on the computer screen, nothing can compare to seeing them in high-resolution print. The colorful photographs nearly jump off the page as you marvel at the stunning beauty of our universe. With a retail price of $50.00, the book is a bit pricy, but it can be found for much less online, This large, coffee table-style book will make a welcome addition to the collection of any space fan and is highly recommended by Sea and Sky.