Pronunciation:
(ER-suh MAY-jer)
Abbreviation:
UMa
&nbsp&nbspGenitive:
Ursae Majoris
Right Ascension:
11 hours
&nbsp&nbspDeclination:
50 degrees
Area in Square Degrees:
1280
Crosses Meridian:
9 PM, April 20
Visible Between Latitudes:
90 and -30 degrees
The constellation Ursa Major, the great bear, is visible in the northern hemisphere all year long. It is a large constellation occupying an area of 1,280 square degrees. This makes it the third largest constellation in the night sky. It is one of the best-known constellations and is famous for containing an asterism known as the Big Dipper. This grouping of bright stars is one of the most recognizable shapes in the sky and can easily be found even in light polluted cities. The shape of the bear can clearly be seen under dark skies, with the handle of the dipper making up the bear's tail. During the Civil War, the Big Dipper was used by the Underground Railroad. Slaves escaping from the South were told to follow the "drinking gourd" to a better life. This is because the Big Dipper is circumpolar, meaning it can be seen in the North all night long. The message of the drinking gourd was passed along in the form of song, since most of the slaves were unable to read or write.
Ursa Major is one of the 48 constellations cataloged by the Greek astronomer Ptolemy in the second century. Its name means "the great bear" in Latin. It is one of the oldest constellations in the night sky, dating back as far as 13,000 years. It is mentioned in the Bible and in the works of the Greek author Homer. It is associated with several Greek and Roman myths. In Greek mythology, it is often associated with Callisto, a nymph who was turned into a bear by Hera, the jealous wife of Zeus. It has taken different forms in different cultures including an ox, camel, shark, skunk, sickle, bushel, and canoe. In Hindu legend the brightest stars represent the Seven Sages and the constellation is known as Saptarshi. The Chinese believed the seven bright stars represented Tseih Sing, the Government, or Pih Tow, the Northern Measure. In some Native American stories, the three stars in the handle of the dipper represented three warriors chasing a great bear. In South Korea, the constellation is referred to as the Seven Stars of the North.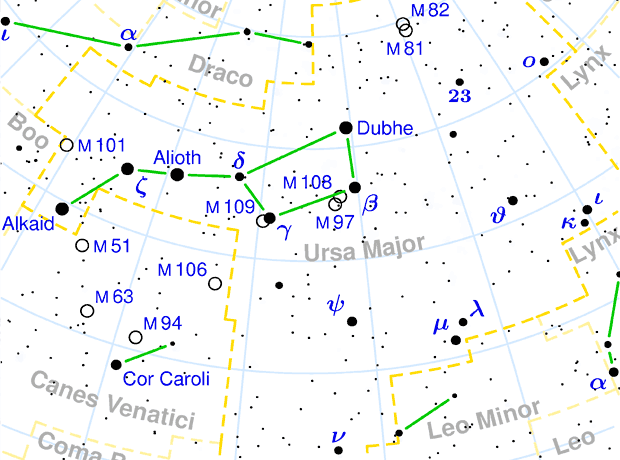 Ursa Major constellation map © Torsten Bronger CC BY-SA 3.0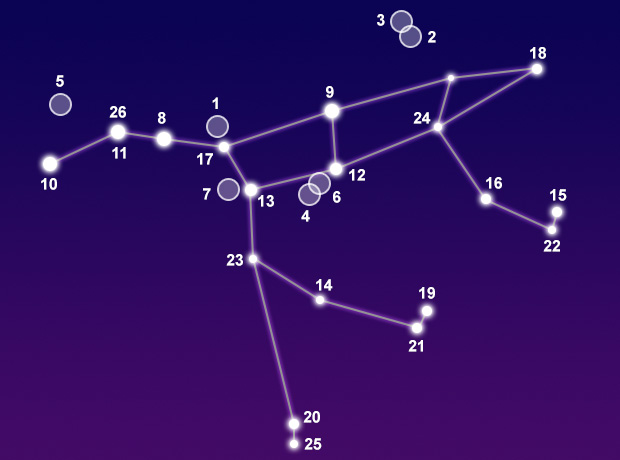 The constellation Ursa Major showing points of interest below © Sea and Sky
Object
Designation
Name / Meaning
Object Type
V Mag
1 2 3 4 5 6 7 8 9 10 11 12 13 14 15 16 17 18 19 20 21 22 23 24 25 26
M40
M81
M82
M97
M101
M108
M109
Alioth
Dubhe
Alkaid
Mizar
Merak
Phad
Psi Ursae Majoris
Talitha
Theta Ursae Majoris
Megrez
Muscida
Tania Borealis
Aula Borealis
Tania Australis
Kappa Ursae Majoris
Chi Ursae Majoris
Upsilon Ursae Majoris
Aula Australis
Alcor
N/A
Bode's Galaxy
Cigar Galaxy
Owl Nebula
Pinwheel Galaxy
N/A
N/A
"Black Horse"
"The Bear"
"Leader of the Mourners"
"Waist Cloth"
"The Loins"
"Thigh of the Bear"
N/A
"The Third Spring"
N/A
"Base of the Tail"
"Muzzle of the Bear"
"Second Spring North"
"First Spring North"
"Second Spring South"
N/A
N/A
N/A
"First Spring North"
"Forgotten One"
Double Star
Spiral Galaxy
Irregular Galaxy
Planetary Nebula
Spiral Galaxy
Spiral Galaxy
Spiral Galaxy
Blue-White Subdwarf Star
Blue-White Subgiant Star
Blue Subgiant Star
Blue Subgiant Star
Blue Subgiant Star
Blue Subgiant Star
Orange Giant Star
Blue Subdwarf Star
Binary Star System
Blue Subgiant Star
Yellow-White Giant Star
Blue Subdwarf Star
Orange Giant Star
Blue Subgiant Star
Binary Star System
Orange Giant Star
Binary Star System
Binary Star System
Blue Subgiant Star
8.40
6.90
8.40
9.90
7.90
10.00
9.80
1.77
1.79
1.86
2.27
2.37
2.44
3.01
3.14
3.17
3.31
3.35
3.45
3.48
3.57
3.60
3.69
3.78
3.79
4.01
Ursa Major is the site of the well-known double star Mizor and Alcor, located in the middle of the dipper's handle. These two stars were the first double star to ever be photographed. They can easily be separated with a good pair of binoculars. The brightest star in the constellation is Alioth with a visual magnitude of 1.77. It is a blue-white subdwarf star located approximately 81 light years from Earth. The second brightest star is Dubhe, a blue-white subgiant star with a magnitude of 1.79. It is located about 123 light years away. Alkaid is the third brightest star with a magnitude of 1.86. It is a blue subgiant star that lies some 101 light years from our solar system.
Ursa Major contains seven Messier objects, including a double star, a planetary nebula, an irregular galaxy, and four spiral galaxies. M81, also known as Bode's Galaxy, is a large spiral galaxy located about 11.8 million light years from Earth. It is extremely bright, making it a popular target for amateur astronomers with small telescopes. M82, the Cigar Galaxy, is an edge-on starburst galaxy shaped like a cigar. M97, the Owl nebula, is a planetary nebula with two dark patches that resemble the eyes of an owl. M101, the Pinwheel Galaxy, is a spectacular face-on spiral galaxy with bright spiral arms and dark dust lanes. Ursa Major also contains a number of other dim galaxies that can only be seen with large telescopes.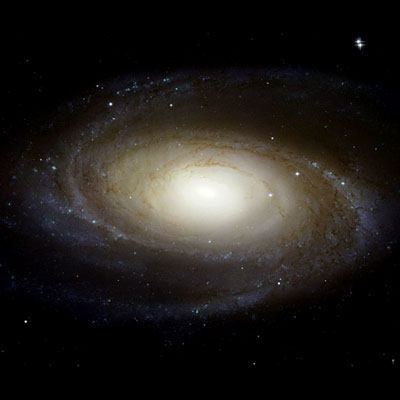 Spiral galaxy M81, Bode's Galaxy as seen
by the Hubble Space Telescope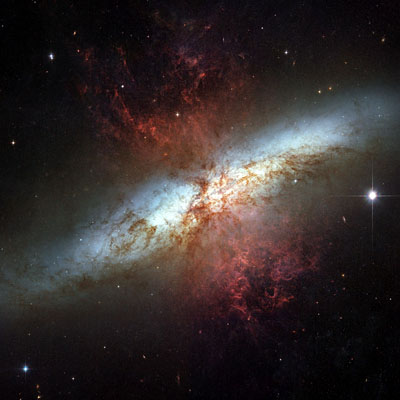 Starburst galaxy M82, the Cigar Galaxy as seen
by the Hubble Space Telescope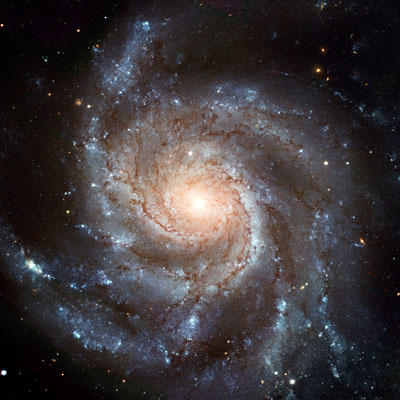 Hubble image of M101 the Pinwheel Galaxy
© ESA/Hubble / CC BY 4.0