Pronunciation:
(PER-see-us)
Abbreviation:
Per
&nbsp&nbspGenitive:
Persei 
Right Ascension:
3 hours
&nbsp&nbspDeclination:
45 degrees
Area in Square Degrees:
615
Crosses Meridian:
9 PM, December 25
Visible Between Latitudes:
90 and -35 degrees
The constellation Perseus, the hero, can be seen in late summer and autumn in the northern hemisphere. It is visible at latitudes between 90 degrees and -35 degrees. Perseus is a mid-sized constellation with a total area of 615 square degrees. This makes it the 24th largest constellation in the night sky. It is bordered by Aries and Taurus to the south, Auriga to the east, Camelopardalis and Cassiopeia to the north, and Andromeda and Triangulum to the west. It is also the origin point for the annual Perseid meteor shower.
Perseus was first cataloged in the second century by the Greek astronomer Ptolemy. It is named after the legendary hero who rescued Andromeda from the sea monster, Cetus. Perseus was the son of Danaë, who was the daughter of King Acrisius. His father was the god Zeus. Perseus was sent by King Polydectes to slay the evil gorgon sister Medusa, whose gaze could turn anyone who looked at her into stone. Perseus slew Medusa in her sleep and collected her head in a bag. On his way back home, he spotted the princess Andromeda chained to a rock. She was to be sacrificed to the sea monster Cetus. Perseus used the head of Medusa to turn the monster into stone. Perseus and Andromeda fell in love and were both placed among the stars.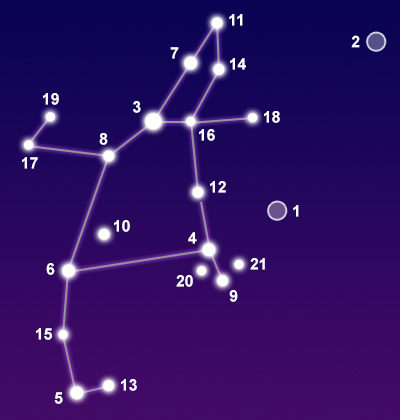 The constellation Perseus showing common
points of interest below © Sea and Sky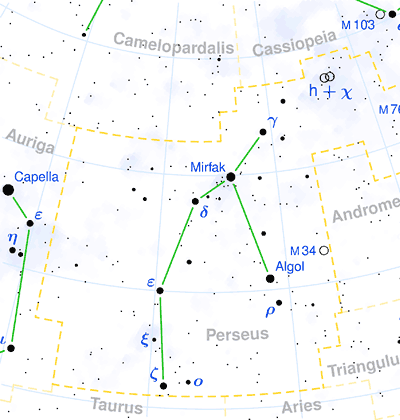 Perseus constellation map
© Torsten Bronger CC BY-SA 3.0
Object
Designation
Name / Meaning
Object Type
V Mag
1
2
3
4
5
6
7
8
9
10
11
12
13
14
15
16
17
18
19
20
21
M34
M76
Mirphak
Algol
Zeta Persei
Epsilon Persei
Gamma Persei
Delta Persei
Gorgonea Tertia
Nu Persei
Miram
Misam
Atik
Tau Persei
Menkib
Iota Persei
Mu Persei
Theta Persei
Lambda Persei
Gorgonea Quata
Gorgonea Secunda
N/A
Little Dumbbell Nebula
"Elbow"
"The Ghoul"
N/A
N/A
N/A
N/A
Third Gorgon Sister
N/A
Hebrew Name
(Origin Unknown)
"The Shoulder"
N/A
"The Shoulder"
N/A
N/A
N/A
N/A
Fourth Gorgon Sister
Second Gorgon Sister
Open Star Cluster
Planetary Nebula
Blue-White Supergiant Star
Triple Star System
Blue-White Supergiant Star
Multiple Star System
Binary Star System
Binary Star System
Red Giant Star
Yellow-White Giant Star
Orange Giant Star
Triple Star System
Blue-White Supergiant Star
Yellow Giant Star
Blue Giant Star
Yellow Dwarf Star
Multiple Star System
Binary Star System
White Subgiant Star
Orange Giant Star
White Dwarf Star
5.50
10.10
1.79
2.12
2.86
2.88
2.93
3.01
3.39
3.77
3.79
3.80
3.83
3.93
4.04
4.05
4.12
4.12
4.30
4.63
4.70
Perseus contains a number of stars brighter than magnitude 4. Mirphak is the brightest. With a visual magnitude of 1.79, it is a blue-white supergiant star about 7 times more massive than our Sun. The second brightest star is Algol with a magnitude of 2.12. Algol is a triple star system and was associated with the eye of the Gorgon Medusa in Greek mythology. Zeta Persei is the third brightest star with a magnitude of 2.86. It is a blue-white supergiant star located approximately 750 light years from Earth.
The plane of the Milky Way passes through Perseus, so it is rich in deep sky objects. It contains two Messier objects, M34 and M76. M34 is an open star cluster containing about 400 individual stars. M76, also known as the Little Dumbbell Nebula, is a planetary nebula left over from a supernova explosion. Other much fainter objects include a number of other star clusters and nebulas which can only be seen in large telescopes.
M76, the Little Dumbbell Nebula © Göran Nilsson, Wim van Berlo & The Liverpool Telescope / CC BY 2.0
Seyfert galaxy NGC 1275 as seen by
the Hubble Space Telescope