Pronunciation:
(LEE-pus)
Abbreviation:
Lep
&nbsp&nbspGenitive:
Leporus
Right Ascension:
6 hours
&nbsp&nbspDeclination:
-20 degrees
Area in Square Degrees:
290
Crosses Meridian:
9 PM, January 25
Visible Between Latitudes:
60 and -90 degrees
The constellation Lepus, the hare, is located in the southern hemisphere of the sky. It can be seen in the northern hemisphere in winter. It is visible at latitudes between 63 degrees and -90 degrees. Lepus is a small constellation occupying an area of 290 square degrees. It ranks 51st in size among the 88 constellations in the night sky. It is bordered by the constellations Caelum, Canis Major, Columba, Eridanus, Monoceros and Orion.
Lepus is one of the 48 constellations identified by the Greek astronomer Ptolemy in the second century. Is name means "the hare" in Latin. It is represented as a rabbit that is being hunted by Orion and his two hunting dogs, Canis Major and Canis Minor. The mythology behind Lepus is uncertain. It is, however, an ancient constellation known at least since the time of the Greeks. Lepus is sometimes confused with the constellation Lupus, the wolf.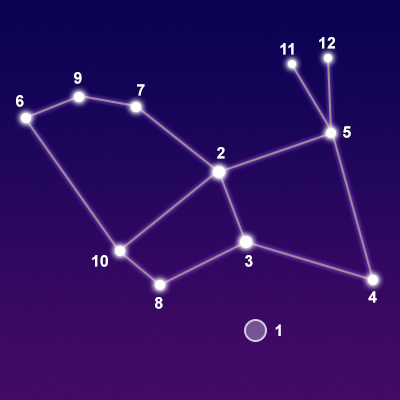 The constellation Lepus showing common
points of interest below © Sea and Sky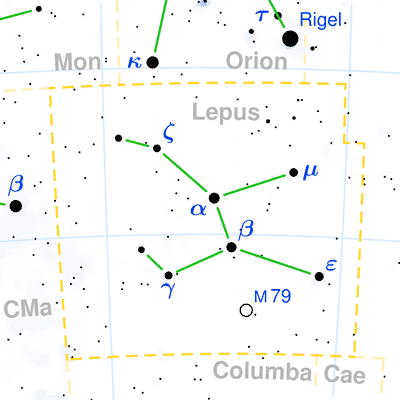 Lepus constellation map
© Torsten Bronger CC BY-SA 3.0
Object
Designation
Name / Meaning
Object Type
V Mag
1 2 3 4 5 6 7 8 9 10 11 12
M79
Arneb
Nihal
Sasin
Neshmet
Theta Leporus
Zeta Leporus
Gamma Leporus
Eta Leporus
Delta Leporus
Lambda Leporus
Kappa Leporus
N/A
"The Hare"
"The Camels"
(Origin Unknown)
(Origin Unknown)
N/A
N/A
N/A
N/A
N/A
N/A
N/A
Globular Star Cluster
White Supergiant Star
Yellow Giant Star
Orange Giant Star
Blue Subgiant Star
White Dwarf Star
White Dwarf Star
Yellow-White Dwarf Star
Yellow-White Dwarf Star
Orange Subgiant star
Blue-White Dwarf Star
Blue-White Dwarf Star
4.00
2.58
2.84
3.16
3.29
3.32
3.52
3.59
3.72
3.85
4.29
4.42
Lepus contains a number of bright stars. The brightest is Arneb with a visual magnitude of 2.58. Its name means "the hare" in Arabic. It is a white supergiant star located approximately 2,218 light years from Earth. The second brightest star is Nihal with a magnitude of 2.84. Nihal is a yellow giant star that lies 160 light years from our solar system. Sasin is the third brightest star with a magnitude of 3.16. It is an orange giant star located about 213 light years away.
Lepus contains one Messier object, M79. It is a globular cluster that contains thousands of individual stars, and is located about 40,000 light years from Earth. It is one of the few globular clusters visible in the northern hemisphere in winter. Lepus also contains one notable deep-sky object. The Spirograph Nebula is a planetary nebula with an intricate pattern that resembles a drawing made with the classic Spirograph toy. It is extremely dim and can only be seen with a large telescope.
Hubble image of globular star cluster M79
© ESA/Hubble / CC BY 4.0
Planetary nebula IC 418, the Spirograph Nebula
as seen by the Hubble Space Telescope