Pronunciation:
(JEM-i-ny)
Abbreviation:
Gem
&nbsp&nbspGenitive:
Geminorum
Right Ascension:
7 hours
&nbsp&nbspDeclination:
20 degrees
Area in Square Degrees:
514
Crosses Meridian:
9 PM, February 20
Visible Between Latitudes:
90 and -60 degrees
The constellation Gemini, the twins, is visible in the northern hemisphere from November through April. It can be seen at latitudes between 90 degrees and -60 degrees. It is a medium-sized constellation that fills an area of 514 square degrees. It ranks 30th in size among the 88 constellations in the night sky. It is bordered by Taurus to the west and Cancer to the east, with Auriga and Lynx to the north and Monoceros and Canis Minor to the south. It is one of the thirteen constellations of the zodiac. This means it lies along the path the Sun travels in the sky during the year.
Gemini is one of the 48 constellations first cataloged by the Greek astronomer Ptolemy in the second century. Its name means "the twins" in Latin. It represents the twins Castor and Pollux, two Greek heroes who were among the men Jason led on his voyages on the Argo. According to myth, they were actually half-brothers and not really twins. They shared the same mother, Leda, but had different fathers. Castor's father was a king of Sparta called Tyndareus, while the father of Pollux was Zeus himself. In Babylonian times, the stars Castor and Pollux were known as the Great twins. They were named Meshlamtaea and Lugalirra, which meant "The One who has arisen from the Underworld" and the "Mighty King".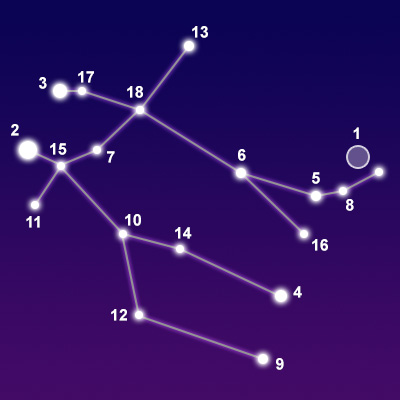 The constellation Gemini showing common points
of interest below © Sea and Sky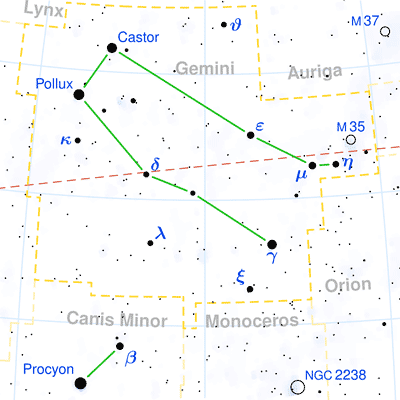 Gemini constellation map
© Torsten Bronger CC BY-SA 3.0
Object
Designation
Name / Meaning
Object Type
V Mag
1 2 3 4 5 6 7 8 9 10 11 12 13 14 15 16 17 18
M35
Pollux
Castor
Alhena
Tejat Posterior
Mebsuta
Propus
Eta Geminorum
Alzirr
Wasat
Kappa Geminorum
Lambda Geminorum
Theta Geminorum
Mekbuda
Upsilon Geminorum
Nu Geminorum
Rho Geminorum
Tau Geminorum
N/A
"Much Wine"
"Beaver"
"Shining"
"Back Foot"
"Outstretched Paw"
"Forward Foot"
N/A
"The Button"
"Middle of the Sky"
N/A
N/A
N/A
"Pulled In Paw"
N/A
N/A
N/A
N/A
Open Star Cluster
Orange Giant Star
Multiple Star System
Blue Subdwarf Star
Red Giant Star
Blue Supergiant Star
Triple Star System
Red Giant Star
Blue-White Subdwarf Star
Blue-White Subdwarf Star
Multiple Star System
White Dwarf Star
Binary Star System
Yellow Supergiant Star
Red Giant Star
Blue-White Giant Star
Yellow-White Dwarf Star
Orange Giant Star
4.00
1.14
1.58
1.93
2.88
3.06
3.28
3.31
3.36
3.53
3.57
3.57
3.60
3.79
4.08
4.14
4.25
4.42
Gemini contains two of the most famous stars in the sky, Castor and Pollux. Pollux is the brighter of the two. With a magnitude of 1.14, it is the brightest star in the constellation. It is an orange giant star located about 34 light years from our solar system. Castor is the second brightest star in Gemini. It is a multiple star system with a combined magnitude of 1.58. It is located approximately 51 light years from Earth. Alhena is the third brightest star with a magnitude of 1.93. It is a blue subdwarf star that lies 109 light years distant.
Gemini contains one Messier object. Known as M35, it is a fine open cluster of about 100 stars that can easily be observed with binoculars. A few notable deep-sky objects can also be found here, but can only be seen with large telescopes. The Eskimo Nebula (NGC 2392) is a bipolar, double-shell planetary nebula. It resembles a face wearing a fur parka. The Jellyfish Nebula is a supernova remnant that was formed by an exploding star between 3,000 and 30,000 years ago. The Medusa Nebula is a planetary nebula that gets its name from filaments of glowing gas that resemble the snakes in the hair of the gorgon Medusa in Greek mythology. NGC 2371-2 is a planetary nebula that resembles a piece of wrapped Halloween candy.
NGC 2392, the Eskimo Nebula as seen by
the Hubble Space Telescope
IC 443, the Jellyfish Nebula as seen by NASA's
Wide-field Infrared Survey Explorer (WISE)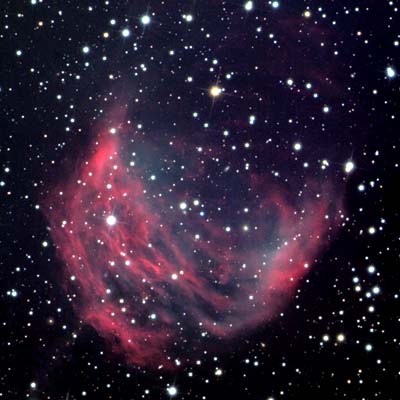 Image of the Medusa Nebula in Gemini
© Jschulman555 / CC BY 3.0
Image of planetary Nebula NGC 2371-2
© en:user:Friendlystar / CC BY 3.0