Pronunciation:
(DRAY-koh)
Abbreviation:
Dra
&nbsp&nbspGenitive:
Draconis
Right Ascension:
17 hours
&nbsp&nbspDeclination:
65 degrees
Area in Square Degrees:
1083
Crosses Meridian:
9 PM, July 20
Visible Between Latitudes:
90 and -15 degrees
The constellation Draco, the dragon, is a northern circumpolar constellation that is visible at latitudes between 90 degrees and -15 degrees. It is a large constellation covering 1,083 square degrees of the sky. This makes it the eighth largest constellation in the night sky. It is bordered by the constellations Boötes, Camelopardalis, Cepheus, Cygnus, Hercules, Lyra, Ursa Major, and Ursa Minor. Draco held special significance in the past. About 4,000 years ago, it was the location of the northern pole star, as Ursa Minor is today. Due to the Earth's wobble, or precession, the pole has now shifted to the star Polaris. Draco is also the origin point for the annual Draconids meteor shower.
Draco is one of the 48 constellations cataloged by the Greek astronomer Ptolemy in the second century. Its name means "the dragon" in Latin. It was the guardian of the star that never moves, the celestial pole. In ancient times, the pole star was believed to be the doorway between the mortal world and eternity. In Greek mythology, the dragon was Laden, a monstrous beast with a hundred heads chosen by Hera to guard the golden apples of immortality. These apples grew in the garden Hesperides, beyond the River of Time in the land of death. Laden was slain by Hercules in the eleventh of his twelve labors. Draco is located very close to the celestial pole, which makes it circumpolar. This means is it visible throughout the night in the northern hemisphere. During the course of the year, it rotates upside down and back again.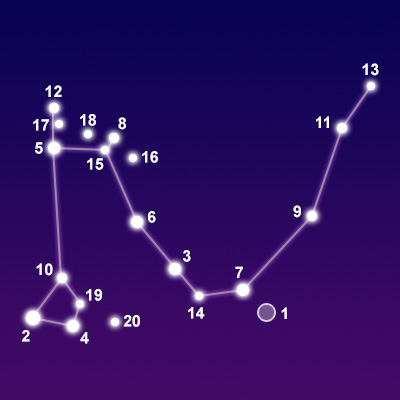 The constellation Draco showing common points
of interest below © Sea and Sky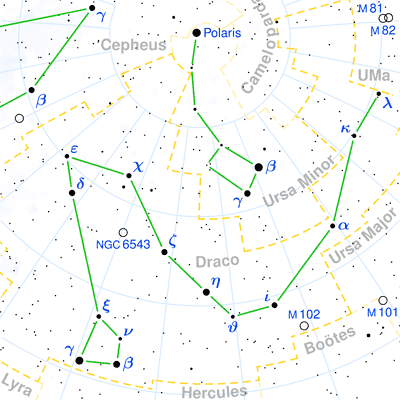 Draco constellation map
© Torsten Bronger CC BY-SA 3.0
Object
Designation
Name / Meaning
Object Type
V Mag
1 2 3 4 5 6 7 8 9 10 11 12 13 14 15 16 17 18 19 20
M102
Etamin
Aldibain
Rastaban
Altais
Aldhibah
Ed Asich
Batentaban Borealis
Thuban
Grumium
Kappa Draconis
Tyl
Gianfar
Theta Draconis
Phi Draconis
Dsiban
Alsafi
Upsilon Draconis
Kuma
Arrakis
Spindle Galaxy
"The Great Serpent"
"Two Wolves"
"Head of the Serpent"
"The Goat"
"The Hyenas"
"Hyena"
"Belly of the Serpent"
"The Snake"
"Jaw"
N/A
(Origin Unknown)
"Dragon"
N/A
N/A
"The Two Jackals"
"Cooking Tripods"
N/A
"As Last"
"The Dancer"
Lenticular Galaxy
Orange Giant Star
Yellow-White Giant Star
Binary Star System
Yellow Giant Star
Blue Giant Star
Orange Giant Star
Binary Star System
White Giant Star
Orange Giant Star
Blue Giant Star
Yellow Giant Star
Red Giant Star
Yellow-White Dwarf Star
Multiple Star System
Binary Star System
White Dwarf Star
Orange Giant Star
Binary Star System
Binary Star System
9.90
2.23
2.73
2.79
3.07
3.17
3.29
3.57
3.65
3.75
3.82
3.99
4.10
4.12
4.20
4.59
4.68
4.80
4.88
4.92
Draco contains several stars brighter than magnitude 4. The brightest star in the constellation is Etamin with a visual magnitude of 2.23. It is an orange giant star located about 154 light years from Earth. The second brightest star is Aldibain with a magnitude of 2.73. It is a yellow-white giant star that lies 92 light years away. At magnitude 2.79, Rastaban is the third brightest star. It is a binary star system located approximately 380 light years from our solar system.
Draco contains one Messier object. M102, also known as the Spindle Galaxy, is an edge-on galaxy with a dark dust lane along its outside edge. It is located over 50 million light years from Earth. In addition to this galaxy, there are a few notable deep-sky objects in this constellation. These include the Cat's Eye Nebula (NGC 6543), the Draco Dwarf Galaxy, and the Tadpole Galaxy. A number of other dim galaxies can also be found here, but these can only be seen with a large telescope.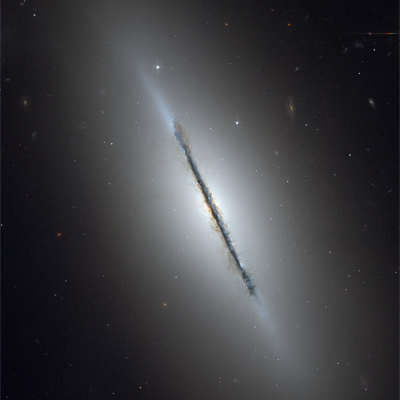 Spiral galaxy M102 in Draco as seen by
the Hubble Space Telescope
NGC 6543, the Cat's Eye Nebula as seen by
the Hubble Space Telescope