Pronunciation:
(AY-ruh)
Abbreviation:
Ara
&nbsp&nbspGenitive:
Arae
Right Ascension:
17 hours
&nbsp&nbspDeclination:
-55 degrees
Area in Square Degrees:
237
Crosses Meridian:
9 PM, July 20
Visible Between Latitudes:
25 and -90 degrees
The constellation Ara, the altar, is located in the southern hemisphere of the sky. It is visible at latitudes between 25 degrees and -90 degrees from November through January. It is best observed during the month of July. It is a small constellation occupying an area of 237 square degrees. It ranks 63rd in size among the 88 constellations in the night sky. It is bordered by the constellations Apus, Corona Australis, Norma, Pavo, Scorpius, Telescopium, and Triangulum Australe.
Apus is one of the 48 constellations introduced by the Greek astronomer Ptolemy in the second century. Its name means "The Altar" in Latin. It is usually depicted as an altar with its smoke rising to the south. It is an ancient constellation that has existed since the time of the Babylonians. In Greek mythology, it represents the altar where the gods made offerings and alliances before defeating the Titans. The altar was believed to have been built by the Cyclopes as a place of sacrifice to the Olympian gods. It may also represent the altar where Centaurus the centaur sacrificed Lupus the wolf.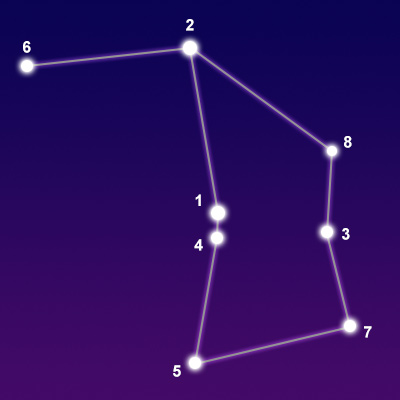 The constellation Ara showing common
points of interest below © Sea and Sky
Ara constellation map
© Torsten Bronger CC BY-SA 3.0
Object
Designation
Name / Meaning
Object Type
V Mag
1
2
3
4
5
6
7
8
Beta Arae
Alpha Arae
Zeta Arae
Gamma Arae
Delta Arae
Theta Arae
Eta Arae
Epsilon-1 Arae
N/A
N/A
N/A
N/A
N/A
N/A
N/A
N/A
Orange Giant Star
Blue-White Subgiant Star
Orange Giant Star
Blue-White Supergiant Star
Blue-White Subgiant Star
Blue-White Supergiant Star
Orange Giant Star
Orange Giant Star
2.84
2.93
3.13
3.34
3.62
3.67
3.76
4.07
Ara contains several stars brighter than magnitude 4. The brightest is Beta Arae with a visual magnitude of 2.84. It is an orange giant star located approximately 603 light years from Earth. Alpha Arae is the second brightest star with a magnitude of 2.93. It is a blue-white subgiant star that lies 240 light years from Earth. With a magnitude of 3.13, Zeta Arae is the third brightest star. It is an orange giant star approximately 1,140 light years distant.
Ara contains no Messier objects but does contain a few notable deep-sky objects. The Stingray Nebula is a planetary nebula approximately 18,000 light years from Earth. It is illuminated by a white dwarf star at its center. NGC 6397 is a globular star cluster that contains about 400,000 stars. NGC 6193 is an open star cluster embedded in a region of dust and gas. NGC 6362 is a globular star cluster located about 24,000 light years away. These objects are extremely dim and can only be seen with large telescopes.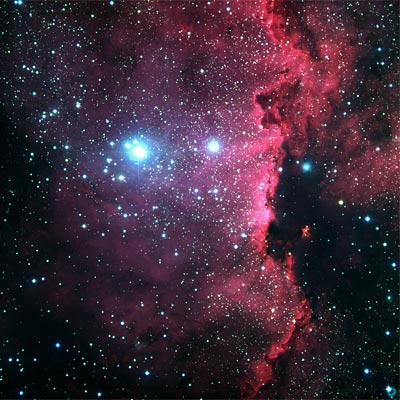 Open star cluster NGC 6193 in the constellation Ara
© European Southern Observatory / CC BY 4.0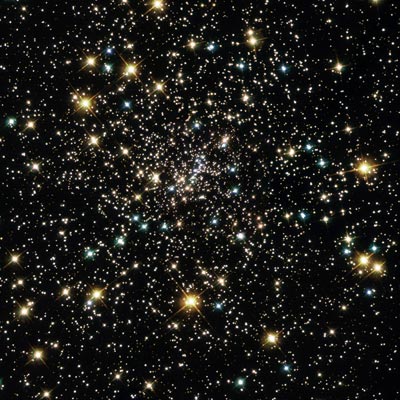 Open star cluster NGC 6397 as seen by
the Hubble Space Telescope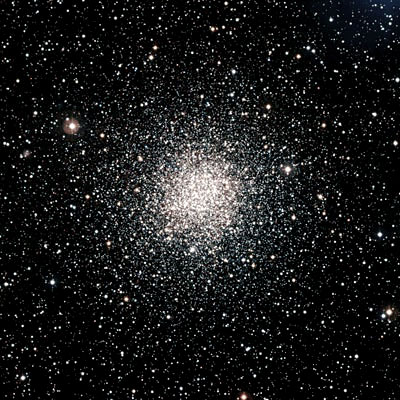 Globular star cluster NGC 6362 in Ara
© European Southern Astronomy / CC BY 3.0

Hen 3-1357, the Stingray Nebula as seen by
the Hubble Space Telescope