Pronunciation:
(SAJ-eh-TEHR-ee-us)
Abbreviation:
Sgr
&nbsp&nbspGenitive:
Sagittarii 
Right Ascension:
19 hours
&nbsp&nbspDeclination:
-25 degrees
Area in Square Degrees:
867
Crosses Meridian:
9 PM, August 20
Visible Between Latitudes:
55 and -90 degrees
The constellation Sagittarius, the archer, is located in the southern hemisphere of the sky. It can be seen in the summer in the northern hemisphere as far north as 55 degrees and in winter in the southern hemisphere. It is one of the largest southern constellations and is easy to recognizable due to an asterism, or grouping of stars, that form a teacup shape. It is a large constellation covering an area of 867 square degrees of the sky. This makes it the 15th largest constellation in the night sky. It lies between Scorpius and Ophiuchus to the west and Capricornus to the east. It is also one of the thirteen constellations of the zodiac. This means it lies along the path the Sun travels in the sky during the year.
Sagittarius is one of the 48 constellations first cataloged by the Greek astronomer Ptolemy in the second century. It is usually depicted as a centaur pulling back on a bow. This ancient constellation is believed to have originated with the Babylonians. He was their god of War, and he stands with his bow aimed at the heart of Scorpius, the scorpion. In Greek mythology, Sagittarius represents a half horse and half man creature known as a centaur. There are many conflicting myths to explain the origin of this centaur so his exact identity is not known. Some legends say that he was placed in the heavens to guide the Argonauts in their travels.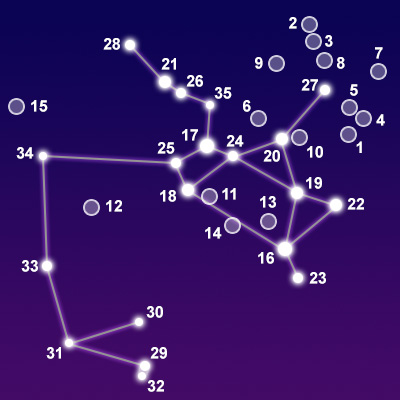 The constellation Sagittarius showing common
points of interest below © Sea and Sky
Sagittarius constellation map
© Torsten Bronger CC BY-SA 3.0
Object
Designation
Name / Meaning
Object Type
V Mag
1 2 3 4 5 6 7 8 9 10 11 12 13 14 15 16 17 18 19 20 21 22 23 24 25 26 27 28 29 30 31 32 33 34 35
M8
M17
M18
M20
M21
M22
M23
M24
M25
M28
M54
M55
M69
M70
M75
Kaus Australis
Nunki
Ascella
Kaus Media
Kaus Borealis
Albaldah
Alnasl
Sephdar
Phi Sagittarii
Tau Sagittarii
Omicron Sagittarii
Polis
Rho-1 Sagittarii
Arkab Prior
Rukbat
Iota Sagittarii
Arkab Posterior
Theta-1 Sagittarii
Omega Sagittarii
Ain al Rami
Lagoon Nebula
Omega Nebula
N/A
Trifid Nebula
N/A
Sagittarius Cluster
N/A
Sagittarius Star Cloud
N/A
N/A
N/A
N/A
N/A
N/A
N/A
"Southern Bow"
(Origin Unknown)
"Armpit"
"Middle Bow"
"Northern Bow"
"The Town"
"Arrowhead"
(Origin Unknown)
N/A
N/A
N/A
"Foal"
N/A
"Hamstring"
"The Archer's Knee"
N/A
"Hamstring"
N/A
N/A
(Origin Unknown)
Diffuse Nebula
Diffuse Nebula
Open Star Cluster
Diffuse Nebula
Open Star Cluster
Globular Star Cluster
Open Star Cluster
Milky Way Patch
Open Star Cluster
Globular Star Cluster
Globular Star Cluster
Globular Star Cluster
Globular Star Cluster
Globular Star Cluster
Globular Star Cluster
Binary Star System
Blue Subgiant Star
Binary Star System
Double Star
Orange Giant Star
Triple Star System
Orange Giant Star
Binary Star System
Blue Giant Star
Orange Giant Star
Binary Star System
Multiple Star system
Blue-White Subgiant Star
Double Star
Blue Dwarf Star
Orange Giant Star
Blue-White Giant Star
Binary Star System
Yellow Subgiant Star
Triple Star System
6.00
7.00
7.50
9.00
6.50
5.10
6.90
4.60
6.50
6.80
7.60
6.30
7.60
7.90
8.50
1.85
2.05
2.59
2.70
2.81
2.89
2.98
3.11
3.17
3.27
3.76
3.85
3.92
3.96
3.97
4.12
4.27
4.37
4.70
4.86
Sagittarius contains a number of bright stars. Kaus Australis is the brightest with a visual magnitude of 1.85. It is a binary star system located 143 light years from Earth. Nunki is the second brightest star with a magnitude of 2.05. It is a blue subgiant star about 228 light years away. With a magnitude of 2.59, Ascella is the third brightest star. Ascella is another binary star system that lies about 90 light years from our solar system.
Sagittarius is an important constellation in that it marks the direction of the center of our galaxy. Because it lies in the heart of the Milky Way, it contains more Messier objects than any other constellation in the sky. There are 15 in all, including seven globular clusters, four open star clusters, three nebulae, and an interesting patch of the Milky Way. M8 is known as the Lagoon Nebula and is one of the most well-known nebulas in the sky. M20, the Trifid Nebula, is famous for its dark dust lane that divides it into three distinct areas. M17, also known as the Omega Nebula or Swan Nebula, is an emission nebula located over 5,000 light years from Earth. M22, the Sagittarius Cluster, is a globular cluster that contains over 80,000 stars. It is also one of only four globular clusters known to contain a planetary nebula. This constellation also contains a large number of non-Messier objects including globular clusters, open clusters, and nebulas. One of the most notable of these is NGC 6818, a planetary nebula also known as the Little Gem Nebula. Sagittarius is one of the richest constellations to explore for amateur astronomers because there are so many fascinating objects that can be seen with just a pair of binoculars. A small telescope will bring even more wonders into view.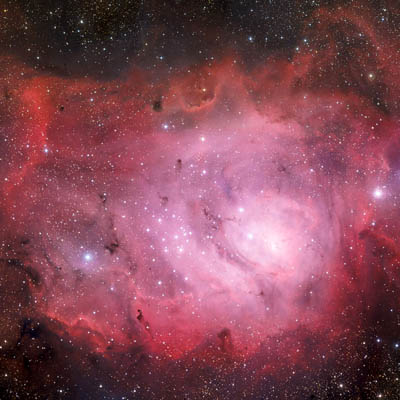 ESO image of M8, the Lagoon Nebula
© ESO/S. Guisard / CC BY 4.0
M20, the Trifid Nebula in Sagittarius
© Ngc1535 / CC BY 4.0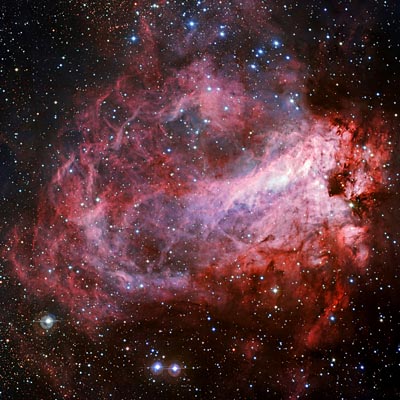 M17, the Omega Nebula & Swan Nebula
© European Southern Observatory / CC BY 4.0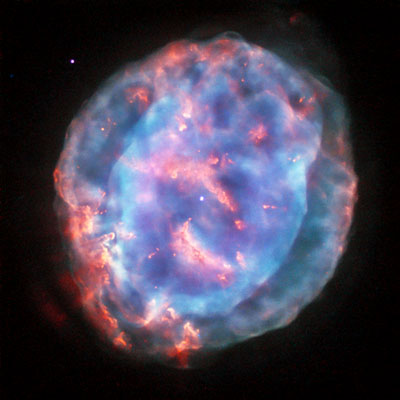 Hubble image of NGC 6818, the Little Gem Nebula
© ESA/Hubble / CC BY 4.0