Pronunciation:
(SIG-nus)
Abbreviation:
Cyg
&nbsp&nbspGenitive:
Cygni 
Right Ascension:
21 hours
&nbsp&nbspDeclination:
40 degrees
Area in Square Degrees:
804
Crosses Meridian:
9 PM, August 20
Visible Between Latitudes:
90 and -40 degrees
The constellation Cygnus, the swan, can be seen in the northern hemisphere between June and October. It is visible between latitudes 90 degrees and -40 degrees. It is a large constellation that fills 804 square degrees of the sky. This makes it the 16th largest constellation in the night sky. It is bordered by Cepheus, Draco, Lyra, Vulpecula, Pegasus, and Lacerta. The stars in this constellation form a large cross that is sometimes referred to as the Northern Cross. Deneb, the brightest star in Cygnus, forms a large triangle with two other stars, Altair in Aquila and Vega in Lyra. This prominent formation of bright stars is known as the Summer Triangle.
Cygnus is one of the constellations cataloged by the Greek astronomer Ptolemy in the second century. The name means "the swan" in Latin. There are a number of mythological origins for this constellation. In one version, the swan is the musician Orpheus, who was killed by Achilles at the battle of troy. Upon his death, he was placed among the stars with his harp, Lyra. In another version, the swan was the pet of the Queen, Cassiopeia. In still another version, the god Zeus transformed himself into a swan to seduce the Spartan Queen Leda. She gave birth to the twins Castor and Pollux who are represented by the constellation Gemini.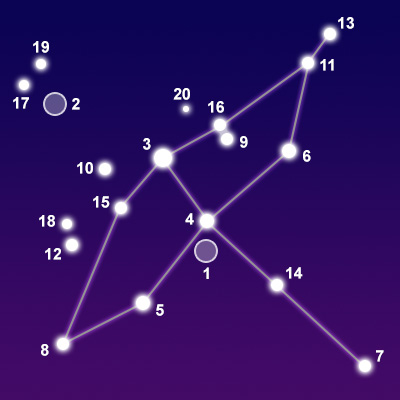 The constellation Cygnus showing common
points of interest below © Sea and Sky
Cygnus constellation map
© Torsten Bronger CC BY-SA 3.0
Object
Designation
Name / Meaning
Object Type
V Mag
1 2 3 4 5 6 7 8 9 10 11 12 13 14 15 16 17 18 19 20
M29
M39
Deneb
Sadr
Gienah
Rukh
Albireo
Zeta Cygni
Omicron-1 Cygni
Xi Cygni
Iota Cygni
Tau Cygni
Kappa Cygni
Eta Cygni
Nu Cygni
Omicron-2 Cygni
Pennae Caudalis
Sigma Cygni
Azelfafage
Ruchba
N/A
N/A
"Tail of the Hen"
"Chest of the Hen"
"The Wing"
(Origin Unknown)
"The Beak Star"
N/A
N/A
N/A
N/A
N/A
N/A
N/A
N/A
N/A
"Tail Feathers"
N/A
"The Horse Track"
"The Hen's Knee"
Open Star Cluster
Open Star Cluster
Blue-White Supergiant Star
Blue-White Supergiant Star
Orange Giant Star
Triple Star System
Binary Star System
Binary Star System
Binary Star System
Binary Star System
Blue-White Dwarf Star
Binary Star System
Yellow Giant Star
Orange Giant Star
White Dwarf Star
Orange Supergiant Star
Binary Star System
Blue Supergiant Star
Double Star System
Multiple Star System
7.10
5.20
1.25
2.20
2.48
2.87
3.18
3.26
3.73
3.73
3.77
3.80
3.81
3.90
3.94
3.98
4.23
4.23
4.67
5.47
Cygnus contains a number of bright stars. Deneb is the brightest with a visual magnitude of 1.25. It is a blue-white supergiant star located 1,400 light years from Earth. The second brightest star is Sadr with a magnitude of 2.2. It is also a blue-white supergiant star approximate 1,800 light years away. At magnitude 2.48, Gienah is the third brightest. Gienah is an orange giant star that is 62 times brighter than the Sun and has 11 times its radius.
Since Cygnus lies on the plane of the Milky Way, it is rich in deep-sky objects, including two Messier objects. M29 is an open star cluster that contains around 50 stars. M39 is another open star cluster than contains more than 30 stars. Both of these can easily be seen with a pair of binoculars. The North America Nebula is a colorful emission nebula close to the star Deneb. Cygnus X is a large region of star formation and home of the famous black hole candidate known as Cygnus X-1. Other notable objects found in this constellation include the Pelican Nebula, the Crescent Nebula (NGC 6888), the Veil Nebula, and the Cygnus Loop. Most of these objects can only be seen in large telescopes.
NASA image of the North America Nebula
from the Digital Sky Survey
Planetary nebula NGC 6826 as seen by
the Hubble Space Telescope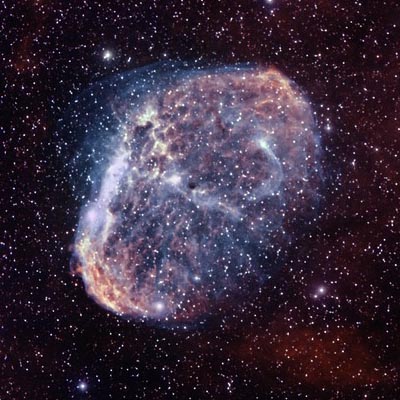 Telescope image of the Crescent Nebula,
NGC 6888 © Stephanh / CC BY 4.0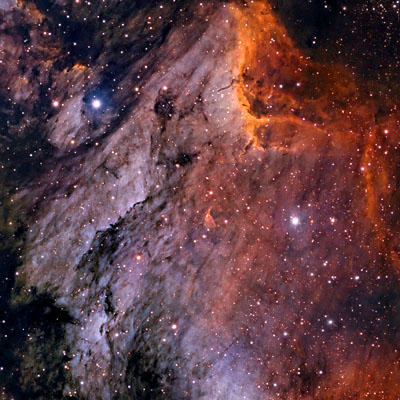 Telescope image of IC 5070 the Pelican Nebula
© Giuseppe Donatiello / CC0