Pronunciation:
(KOH-muh BER-uh-NY-seez)
Abbreviation:
Com
&nbsp&nbspGenitive:
Comae Berenices
Right Ascension:
13 hours
&nbsp&nbspDeclination:
20 degrees
Area in Square Degrees:
386
Crosses Meridian:
9 PM, May 15
Visible Between Latitudes:
90 and -60 degrees
The constellation Coma Berenices, Berenice's hair, is visible in the northern hemisphere in spring and summer. It is visible at latitudes between 90 degrees and -70 degrees. It is a medium-sized constellation occupying 386 degrees of the sky. It ranks 42nd in size among the 88 constellations in the night sky. It is bordered by the constellations Boötes, Canes Venatici, Leo, Ursa Major, and Virgo.
Coma Berenices was original considered part of the constellation Leo by the second century Greek astronomer Ptolemy. It originally represented the tuft at the end of the Lion's tail. It remained there until the 16th century when the cartographer Caspar Vopel separated the stars out into a new constellation. The Danish astronomer Tycho Brahe included Coma Berenices in his star catalog which was published in 1602. It was named after Queen Berenice II, the wife of Ptolemy III of Egypt, whose beautiful long hair was given to Aphrodite as a gift. Aphrodite was so pleased by this gift that she placed it in the night sky. To this day the constellation is known as Berenice's Hair.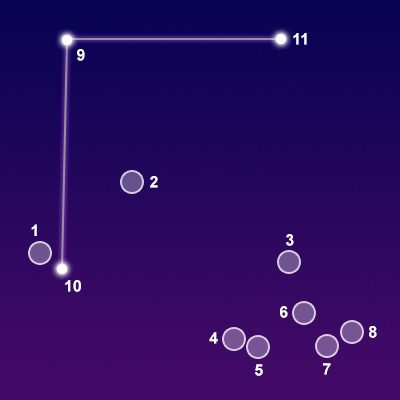 The constellation Coma Berenices showing common
points of interest below © Sea and Sky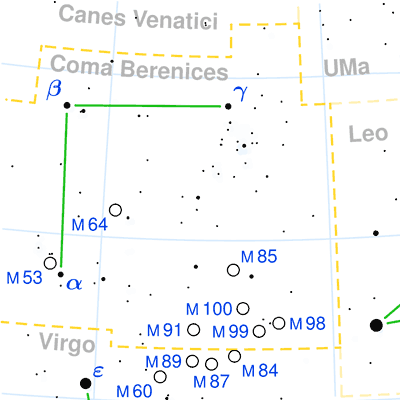 Coma Berenices constellation map
© Torsten Bronger CC BY-SA 3.0
Object
Designation
Name / Meaning
Object Type
V Mag
1 2 3 4 5 6 7 8 9 10 11
M53
M64
M85
M91
M88
M100
M99
M98
Beta Comae Berenices
Diadem
Gamma Comae Berenices
N/A
Black Eye Galaxy
N/A
N/A
N/A
N/A
N/A
N/A
N/A
Berenice's Crown
N/A
Globular Star Cluster
Spiral Galaxy
Elliptical Galaxy
Spiral Galaxy
Spiral Galaxy
Spiral Galaxy
Spiral Galaxy
Spiral Galaxy
Yellow-White Subgiant Star
Blue-White Subgiant Star
Orange Giant Star
7.60
8.50
9.10
10.20
9.60
9.30
9.90
10.10
4.26
4.32
4.35
Coma Berenices is a very dim constellation. The brightest star is Beta Comae Berenices with a visual magnitude of only 4.26. It is a yellow-white subgiant star located approximately 30 light years from Earth. Diadem is the second brightest star with a magnitude of only 4.32. It is a blue-white subgiant star that lies about 63 light years away. Gamma Comae Berenices is the third brightest star with a magnitude of 4.25. It is an orange giant star located some 170 light years from our solar system.
Coma Berenices contains a variety of deep-sky objects, including eight Messier objects. All of these are galaxies except for M53, which is a globular star cluster. M64, also known as the Black Eye Galaxy, is a spiral galaxy seen nearly face-on. It gets its name from a dark region of dust near its center, which makes the galaxy look as if it has a black eye. M100 is the brightest galaxy in the group. It is a beautiful example of a face-on spiral galaxy. M53 is a globular star cluster containing thousands of individual stars. This constellation also contains a number of other deep-sky objects. NGC 4565, also known as the Needle Galaxy, is one of the most famous edge-on spiral galaxies in the sky. Its bright central bulge and dark dust lanes are easily visible. Coma Berenices also contains the northern part of the Virgo Cluster of galaxies, sometimes called the Coma-Virgo cluster. This cluster contains over 1,300 individual galaxies. Another galaxy cluster in this constellation is the Coma Cluster of galaxies. This cluster contains about 1,000 large galaxies and over 30,000 smaller ones. With the exception of the Messier objects, these deep-sky objects can only be seen with a large telescope.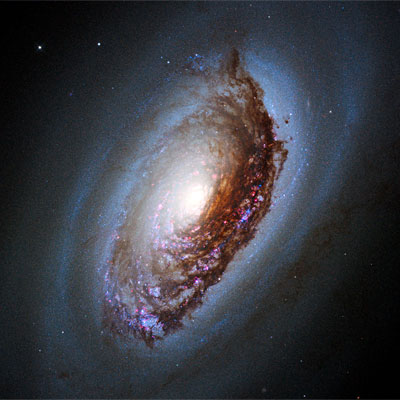 Spiral galaxy M64, The Blackeye Galaxy
© Judy Schmidt from USA / CC BY 2.0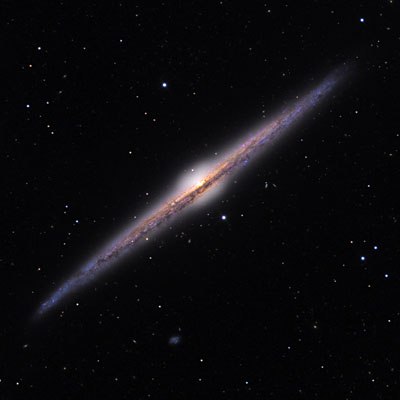 Spiral galaxy NGC 4565, the Needle Galaxy
© Ken Crawford / CC BY 3.0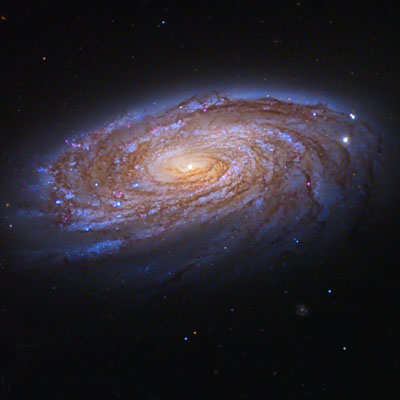 Spiral galaxy M88 © Adam Block/Mount Lemmon
SkyCenter/University of Arizona / CC BY 4.0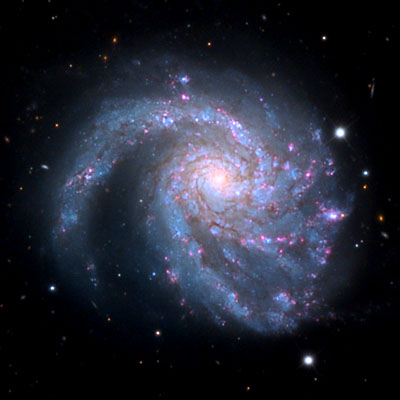 Spiral galaxy M99 © Adam Block/Mount Lemmon
SkyCenter/University of Arizona / CC BY 4.0