Pronunciation:
(KAY-nis MAY-jur)
Abbreviation:
CMa
&nbsp&nbspGenitive:
Canis Majoris
Right Ascension:
7 hours
&nbsp&nbspDeclination:
-20 degrees
Area in Square Degrees:
380
Crosses Meridian:
9 PM, February 15
Visible Between Latitudes:
60 and -90 degrees
The constellation Canis Major, the great dog, is located in the southern hemisphere of the sky. It is visible in the northern hemisphere from December through March. It can be seen at latitudes between 60 degrees and -90 degrees. It is a small to mid-sized constellation covering an area of 380 square degrees. It ranks 43rd in size among the 88 constellations in the night sky.
Canis Major is one of the 48 constellations originally cataloged by the Greek astronomer Ptolemy in the second century. Its name means "the greater dog" in Latin. It represents the larger of Orion's two hunting dogs who accompany him as he hunts Lepus, the rabbit. It is an ancient constellation with many different meanings to many different cultures. The ancient Babylonians saw it as an arrow aiming towards Orion. Part of the stars from Puppis formed the bow. To the Chinese, the stars in Canis Major were part of the Vermillion Bird. In Greek mythology, the constellation represented the dog Laelaps, a gift from Zeus to Europa. The dog was famous for being the fastest in the world. Zeus eventually placed the dog into the night sky. If you connect the stars with lines, this constellation does somewhat resemble a dog.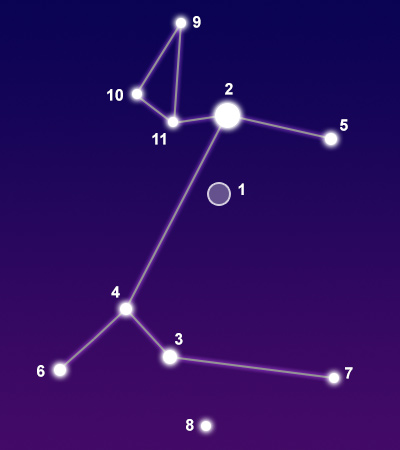 The constellation Canis Major showing common
points of interest below © Sea and Sky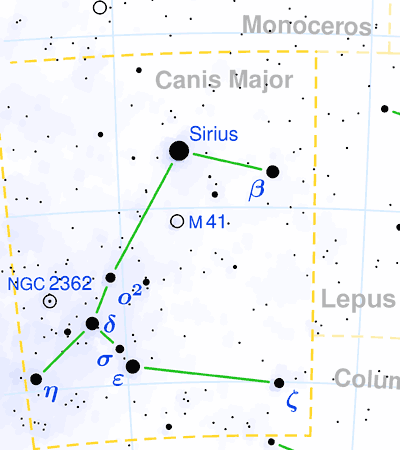 Canis Major constellation map
© Torsten Bronger CC BY-SA 3.0
Object
Designation
Name / Meaning
Object Type
V Mag
1
2
3
4
5
6
7
8
9
10
11
M41
Sirius
Adhara
Wezen
Mirzam
Aludra
Furud
Kappa Canis Majoris
Theta Canis Majoris
Muliphen
Iota Canis Majoris
N/A
"Scorching"
"Maidens"
"Weight"
"The Herald"
"The Maidenhead"
"The Solitary Ones"
N/A
N/A
"Star to Swear By"
N/A
Open Star Cluster
Binary Star System
Binary Star System
Yellow-White Supergiant Star
Beta Cephei Variable Star
Blue-White Supergiant Star
Binary Star System
Blue-White Subgiant Star
Orange Giant Star
Blue-White Giant Star
Blue-White Supergiant Star
4.60
-1.46
1.50
1.83
1.98
2.45
3.02
3.50
4.08
4.10
4.40
Canis Major is famous for the bright star Sirius, the brightest star in the night sky. With a visual magnitude of 1.46, it is also the brightest star in the constellation. Sirius is also known as the Dog Star. Its name means "scorching," which more than likely refers to the star's unmatched brilliance in the sky. It is a binary star system located only 8.6 light years from Earth. This makes it the fifth closest star system to our own. The second brightest star in Canis Major is Adhara with a magnitude of 1.50. It is also a binary star system that lies approximately 430 light years away. Wezen is the third brightest star with a magnitude of 1.83. It is a yellow-white supergiant star that sits about 1,800 light years from our solar system.
Canis Major contains one Messier object, M41. This is an open star cluster containing about 100 stars. It is 26 light years in diameter and is located 2,300 light years from Earth. A few other notable deep-sky objects can also be found here. These dim objects can only be seen with a large telescope. The Canis Major Dwarf Galaxy, also known as the Canis Major Overdensity, is an irregular galaxy that is thought to be the closest neighboring galaxy to our solar system. Thor's Helmet (NGC 2359) is an emission nebula that closely resembles a Viking helmet. NGC 2207 and IC 2163 are a pair of interacting spiral galaxies that are in the process of colliding with each other. They will eventually merge to form a larger galaxy.
Colliding galaxies NGC 2207 and IC 2163
© Martin Rusterholz in CXIELO / CC BY-SA 3.0
NGC 2359, the Thor's Helmet Nebula
© European Southern Observatory / CC BY 4.0