Pronunciation:
(boo-OH-teez)
Abbreviation:
Boo
&nbsp&nbspGenitive:
Boötis
Right Ascension:
15 hours
&nbsp&nbspDeclination:
30 degrees
Area in Square Degrees:
907
Crosses Meridian:
9 PM, June 15
Visible Between Latitudes:
90 and -50 degrees
The constellation Boötes, the herdsman, is visible in the northern hemisphere from spring through the summer. It can be seen at latitudes between 90 degrees and -50 degrees. It is a large constellation covering an area of 907 square degrees. This makes it the 13th largest constellation in the night sky. It is bordered by Virgo to the south, Coma Berenices and Canes Venatici to the west, Ursa Major to the northwest, Draco to the northeast, and Hercules, Corona Borealis and Serpens Caput to the east.
Boötes is one of the 48 constellations listed by the Greek astronomer Ptolemy in the second century. Its name comes from a Greek word that means "ox driver, plowman, or herdsman". It is typically depicted as a herdsman. Along with his faithful hounds, Canes Venatici, he follows the two bears, Ursa Major and Ursa Minor, around the pole. Boötes is an ancient constellation that has been known since the time of the Babylonians. They depicted it as their god Enlil, who was the leader of the Babylonian pantheon and the patron of farmers. The ancient Greeks once called this constellation Arctophylax, which means "the protector of the Bear". The Romans called it Venator Ursae, "the Bear Hunter". The name Boötes first appeared in The Odyssey, written by the Greek author Homer almost three thousand years ago.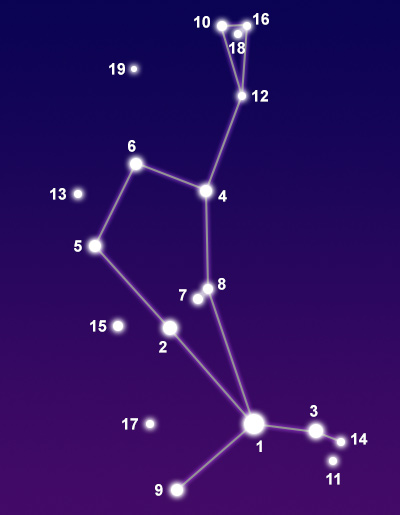 The constellation Boötes showing common
points of interest below © Sea and Sky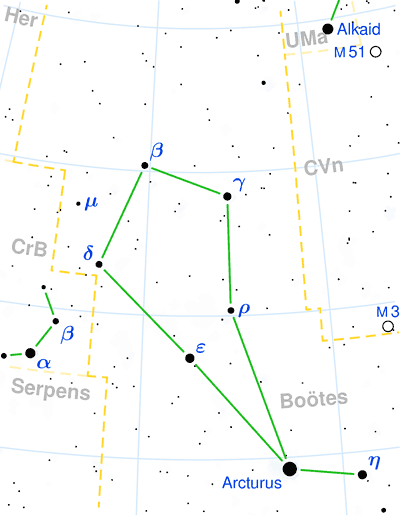 Boötes constellation map
© Torsten Bronger CC BY-SA 3.0
Object
Designation
Name / Meaning
Object Type
V Mag
1 2 3 4 5 6 7 8 9 10 11 12 13 14 15 16 17 18 19
Arcturus
Izar
Muphrid
Seginus
Delta Boötis
Nekkar
Sigma Boötis
Rho Boötis
Zeta Boötis
Asellus Primus
Upsilon Boötis
Lambda Boötis
Alkalurops
Tau Boötis
Nadlat
Asellus Tertius
Xi Boötis
Asellus Secondus
Merga
"Guardian of the Bear"
"Veil"
"The Solitary One"
(Origin Unknown)
N/A
"Cattle Driver"
N/A
N/A
N/A
"First Donkey Colt"
N/A
N/A
"The Shepherd's Staff"
N/A
"Little Ones"
"Third Donkey Colt"
N/A
"Second Donkey Colt"
"The Chained Woman"
Orange Giant Star
Binary Star System
Yellow-White Subdwarf Star
Blue Giant Star
Double Star System
Yellow-White Giant Star
Yellow-White Dwarf Star
Orange Giant Star
Binary Star System
Blue-White Subgiant Star
Orange Giant Star
White Dwarf Star
Triple Star System
Binary Star System
Orange Giant Star
Blue-White Subgiant Star
Binary Star System
Blue Subgiant Star
Blue-White Subdwarf Star
-0.04
2.37
2.68
3.03
3.48
3.49
3.52
3.58
3.78
4.05
4.05
4.18
4.31
4.50
4.52
4.54
4.70
4.75
5.76
The constellation Boötes is the home of Arcturis, the 4th brightest star in the night sky. It is also the brightest star in the northern hemisphere. With a visual magnitude of -0.04, Arcturis is an orange giant star about 20 times the size of the Sun. It is the brightest star in the constellation and is located approximately 36 light years from Earth. Izar is the second brightest star with a magnitude of 2.37. It is a binary star system that lies about 203 light years distant. With a magnitude of 2.68, Muphrid is the third brightest star. It is a yellow-white subdwarf star located about 37 light years from our Solar System.
Boötes contains no Messier objects but it dies contain a few interesting deep-sky objects. The Boötes Void is a region of space approximately 250 million light years in diameter that contains almost no galaxies. The Boötes Dwarf Galaxy is a dwarf spheroidal galaxy located about 197,000 light years from Earth. NGC 5466 is a globular star cluster that contains thousands of individual stars. These objects are extremely dim and can only be seen with a large telescope.
Globular star cluster NGC 5466 as seen by
the Hubble Space Telescope
Boötes I, the Boötes Dwarf Galaxy as seen by
the Hubble Space Telescope