Pronunciation:
(uh-KWIL-uh)
Abbreviation:
Aql
&nbsp&nbspGenitive:
Aquilae 
Right Ascension:
20 hours
&nbsp&nbspDeclination:
5 degrees
Area in Square Degrees:
652
Crosses Meridian:
9 PM, August 30
Visible Between Latitudes:
85 and -75 degrees
The constellation Aquila, the eagle, is visible in the northern hemisphere from July through October. It can be seen between latitudes 90 degrees and -75 degrees. It is a mid-sized constellation, spanning 652 square degrees of the sky. This makes it the 22nd largest constellation in the night sky. It is bordered by the constellations Aquarius, Capricornus, Delphinus, Hercules, Ophiuchus, Sagitta, Sagittarius, Scutum, and Serpens Cauda. Aquila's brightest star Altair forms part of the famous Summer Triangle, along with Deneb in Cygnus and Vega in Lyra.
The name Aquila means "Eagle" in Latin. It represents the eagle that carried Zeus' thunderbolts and also brought the mortal Ganymede to the heavens to serve as Zeus' cupbearer. In another myth, Aquila represents the goddess Aphrodite. She disguised herself as an eagle and pretended to pursue Zeus in the form of a swan. She did this so that Zeus' love interest, the goddess Nemesis, would give him shelter. Zeus later placed the eagle and the swan in the heavens as constellations. Aquila has been known since the time of the ancient Babylonians, who also saw it as an eagle. To the ancient Romans, the constellation represented a flying vulture.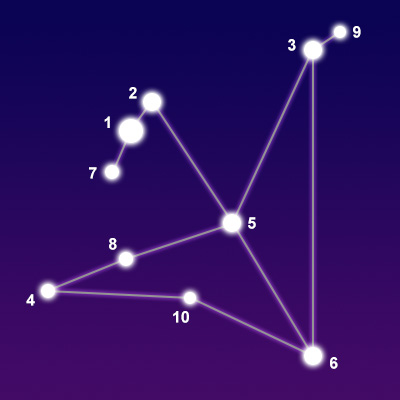 The constellation Aquila showing common
points of interest below © Sea and Sky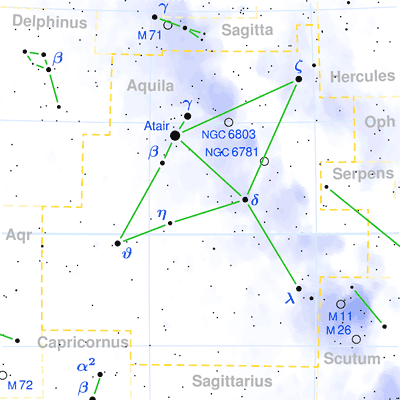 Aquila constellation map
© Torsten Bronger CC BY-SA 3.0
Object
Designation
Name / Meaning
Object Type
V Mag
1
2
3
4
5
6
7
8
9
10
Altair
Tarazed
Deneb el Okab Australis
Tseen Foo
Delta Aquilae
Lambda Aquilae
Alshain
Bezek
Deneb el Okab Borealis
Al Thalimain
"The Flying Eagle"
"Beam of the Scale"
"South Tail of the Eagle"
"Heavenly Rafter"
N/A
N/A
"The Falcon"
"Lightning"
"North Tail of the Eagle"
"Two Ostriches"
Blue Subdwarf Star
Orange Giant Star
Triple Star System
Binary Star System
Binary Star System
Blue-White Dwarf Star
Yellow-White Subgiant Star
Yellow-White Supergiant Star
Triple Star System
Blue-White Giant Star
0.77
2.72
2.99
3.26
3.37
3.43
3.71
3.87
4.02
4.36
Aquila contains several bright stars including the famous stars Altair and Tarazed. Altair is the brightest star in the constellation. With a visual magnitude of 0.77, it is the 12th brightest star in the night sky. Altair is a blue subdwarf star located only 16.8 light years from Earth. It is one of the closest stars visible to the naked eye. Tarazed is the second brightest star in Aquila with a magnitude of 2.72. It is an orange giant star that lies 461 light years distant. With a magnitude of 2.99, Deneb el Okrab Australis is the third brightest star. The name means "Tail of the Eagle". It is a triple star system located approximately 83 light years from our solar system.
Aquila contains no Messier objects, but does contain a number of interesting deep-sky objects. The Phantom Streak Nebula is a planetary nebula first discovered in 1882 by American astronomer Edward Charles Pickering. It is located 7,000 light years from Earth. The Glowing Eye nebula is a planetary nebula that strongly resembles the iris of an eye. It is nearly one light year in diameter and lies 6,500 light years away. Several other dim nebulas and star clusters can be found in Aquila, but these can only be seen in large telescopes.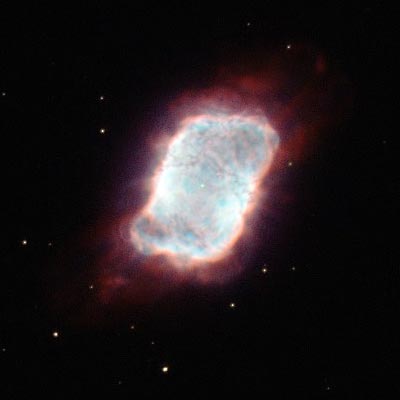 NGC 6741, the Phantom Streak Nebula
© ESA/Hubble and NASA / CC BY 3.0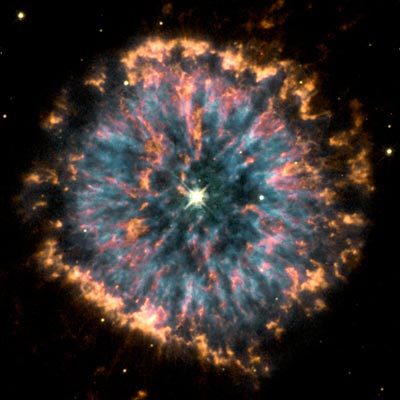 NGC 6751, the Glowing Eye Nebula as seen by
the Hubble Space Telescope